Ziggy's Deep-Fried Ice Cream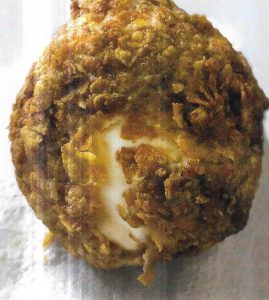 The recipe comes from our friends Vanessa Moore and Louisa Clerici, who created The Plymouth Cookbook. The recipe is from Ziggy's Ice Cream & Food in Plymouth, MA.
Ingredients:
Ice cream of choice
Corn Flakes cereal, crushed
Dash of Cinnamon (optional)
Enough whisked egg whites to roll the ice cream in
Canola oil for deep frying
Directions:
Scoop out a ball of your favorite ice cream. Wearing a pair of vinyl gloves, compact the ice cream in your hands. Pack it so that it is about the size of a baseball.
Proceed to roll the ice cream ball in crushed corn flakes (whole corn flakes will not stick well). You may add some cinnamon to the corn flakes if you like.
At this point, you want to roll your corn-flaked ice cream ball in the egg whites, and then repeat this process back into the crushed cinnamon/corn flakes. Your ice cream should be covered in corn flakes with the egg whites acting as a glue.
Place the ball of ice cream in a freezer for a few hours.
After a few hours, your ice cream ball should be frozen well, through and through. You now have a ball of your favorite ice cream ready for the fryer.
Heat your oil up to 360 degrees F in your deep fryer or wok. Take the ice cream ball(s) out of the freezer and fry for just 15 seconds.
Drain on a paper towel for just a few seconds, and serve.
This entry was posted in
Recipes
on
.