The Birth of "Dream First"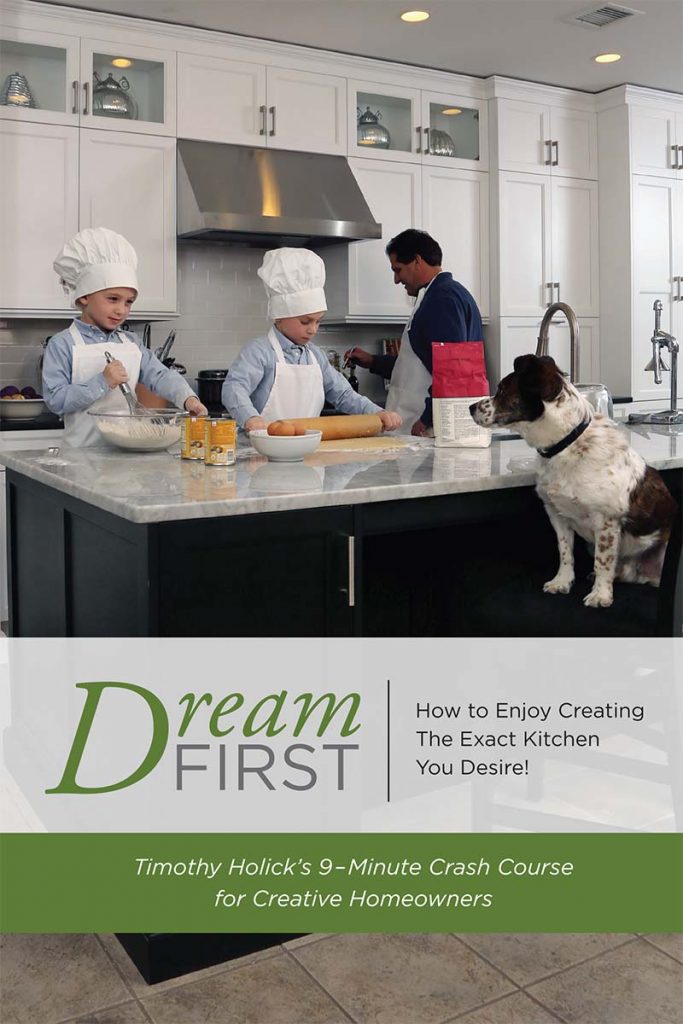 I'm sure we can all name many times in our lives when we caught ourselves dreaming of what life was going to be like. Or maybe it was just something that we yearned for, whether a possession or a person. I used to drift away many times when I was young, sitting in my bedroom and listening to music. Those were times that I thought I could have accomplished anything that I desired.
I still believe many years later that anything is possible, especially when it comes to kitchen design. I'm at my creative best when I delve into a client's mind and tap into their deepest desires, finding out what their dreams are. Dreaming is an essential part of life, and it is the main ingredient to our culture and systems here at Wood Palace.
The Dream First concept came to me around 2012, when I sat down with someone to write a concept book. We discussed our thoughts on how I felt about my trade. My biggest gripe with our trade was how clients looked at buying, whether it was from a contractor, plumber or kitchen designer. It was all about getting prices (bids). The thought was always, "Let's get two to four bids on our project." The biggest question I had with this buying process was, "how do you know what you are getting in that bid, and how will it affect your project?"
This was especially true in the kitchen industry. We have been doing the same thing here at Wood Palace for years: finding out by asking questions and listening to the answers to extract exactly what our clients wanted, so that we could design their wants and needs into their kitchen. It has worked well over the years, especially when we saw how happy our clients were in the end. However, it didn't work for us with the people that chose the lower price over our price. It also produced bad results for the clients when they discovered, during the process or sometimes in the end, that the project didn't match what they were looking for.
In the Dream First book, these factors were discussed and we came up with a concept that not only solved this problem but helped a client before they got trapped in the same old bidding war that resulted in time lost, pain and a finished product that didn't satisfy their needs. The average client doesn't know much about remodeling, and if they came across someone who was just trying to sell them a product or service, who didn't care about any more than that, they will get fooled every time. How did I know this? I would often see clients that didn't buy from us when I was out and about, whether it was a play, sporting event or just out to eat, and they would tell me their woes every time. I would feel bad each and every time I would hear it. I felt that I needed to solve this problem and help people choose better, so that they ended up with the results that they had dreamed of.
The book we created is simple and an easy read, 5 minutes or less. It is all about two movie examples, one being the old and painful way and one with Dreaming First. Each result was different, as one might expect. The book uses words that I have heard from clients who bought from us, and people who didn't. It was as blunt and direct as it needed to be to get the concept across to make their results better. I firmly believe in budgets, and making sure the project fits the client's monetary restraints, but the old way of taking the lowest bid only hurt one person in the end: the client!
Dream First is about one thing – letting the designer, contractor or anyone you sit with ask you key questions to get everything out that is in your head, so that they can listen to these thoughts and put together an end result that truly fits your needs. Then, let them try to fit these ideas into your budget. If it is not done in this order, the client will be fooled every time, leading to angry feelings and frustration. I think we all have been in this situation before, and I hope that when we helped you, it resulted in happiness and content.
We are heading into the busiest season with remodeling, the Fall. If you know anyone looking to remodel their kitchen who needs help, please send them to our website https://www.woodpalacekitchens.com/ebook/ to download an electronic version of our book to read. It will be an easy read that will save them time and frustration and set the stage for a well-done project that they will be happy with. They can always stop by the showroom and pick up a hard copy also.
You can also send them to our Dream First, the Process, three-part movie series which walks through a job from start to finish, here: https://www.woodpalacekitchens.com/design/dream-first-the-process/
Thank you for always thinking of us and recommending us to your friends, co-workers and family. We appreciate your commitment to us. Make sure they tell us that you sent them so that we can send you our $250 referral fee for sending them in and becoming a new client.
Hope the summer has been fun and relaxing. Enjoy the rest of it!
Bon Appetit
Tim (Food A Holick)
This entry was posted in
Kitchen Design
on
.