Giving Back
"Growing up in Middleborough, Massachusetts, I was very lucky to have the support and influence of exceptional teachers at Bristol Plymouth Regional Technical High School in Taunton that laid the groundwork for my future career in design, production and business management. By contributing a percentage of my business to Make-A-Wish® Massachusetts and Rhode Island, I am able to do my part in giving back to the children in my community"
– Tim Holick, President of Wood Palace Kitchens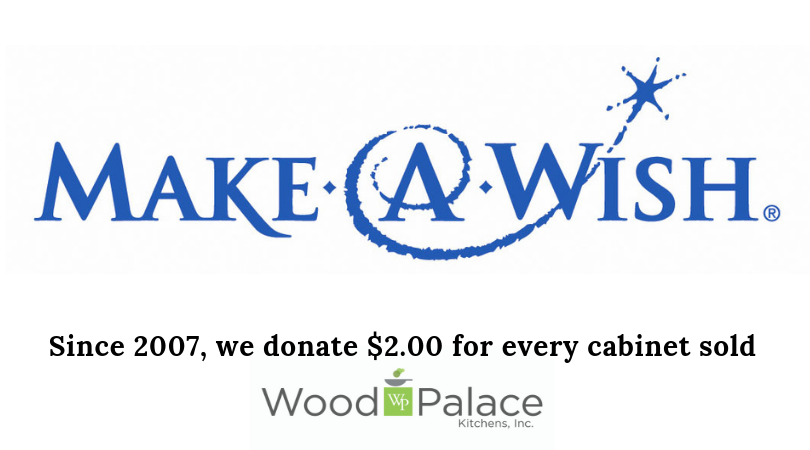 One of the organizations with which Wood Palace Kitchens is most proud of working is the Make-A-Wish Foundation. Wood Palace is proud to have the opportunity to help make children's dreams come true. Since September 25, 2007, Wood Palace Kitchens has donated $2.00 to the Make-A-Wish Foundation for every cabinet sold. This promise has allowed us to positively impact the lives of countless children, including one five-year-old girl who reached out to Wood Palace with a touching and heartfelt thank you letter.
Click here to read about the wish that was granted.
As a community-centered business, Wood Palace Kitchens has always been about giving back. Over the years, we've partnered with many charities and nonprofits, both local and national, to ensure that we are doing as much as we can to make our community stronger. If you would like to join us in our mission, please visit our partner sites:
Special Olympics
Dana Farber Jimmy Fund
The Salvation Army
Avon Walk for Breast Cancer
American Cancer Society
American Institute for Cancer Research
Make-A-Wish Foundation
It means a lot to us to know that our efforts to reach out to the community and improve the lives of our friends and neighbors succeed, even in the smallest measure. It's why we won't stop partnering with new charities, engaging in new missions of giving, and helping to make the communities we call home just a little better.
Of course, giving back to the community is about more than charity events and donations. It's also about the little things. It's why we make an effort to have a presence at local career days, and take part in school committees. It's why we give two scholarships to Bristol-Plymouth Regional Technical School graduates each year. It's why we host art lessons and teach cooking classes in the Wood Palace Showroom. And it's why we always try to bring the community of customers that we have created closer. We believe everyone in our community has something to offer, be they chefs, policemen, teachers, craftsmen, or anything in between, and it's our pleasure to help bring those unique voices together.