Meet The Team
Tim Holick – Founder
They say if you love what you do, you'll never work a day in your life. It's a saying that accurately describes Tim Holick, the founder of Wood Palace Kitchens. For Tim, providing high quality craftsmanship is about more than doing a job: it's about living up to a standard of excellence that he sets for himself. After all, when you want the job done right, who better to go to than someone who truly loves their craft? Craftsmanship isn't the only thing important to Tim, though. His dedication to professional growth is clear, but personal and community growth are of equal importance. Whether it's coaching a Pee Wee football team or hosting cooking classes in the Wood Palace Showroom, Tim's goal is to bring a little positivity to everything he does. Tim's passion for personal growth and positive energy has had a major impact on the culture at Wood Palace Kitchens. Take one step into the Wood Palace Showroom and you'll feel the air charged with creativity and enthusiasm. It is Tim's hope that this positive energy cultivates both a creative environment for Wood Palace's designers and a welcoming, friendly environment for our friends and partners! MEET TIM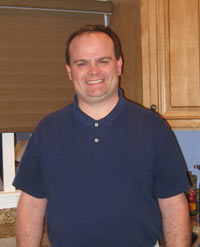 Michael Holick – Sales/Designer. A former contractor himself, Michael has a full understanding of the needs and time constraints limiting contractors, allowing him to paint an extremely accurate picture for potential customers. Michael's knowledge base sets the tone for all of Wood Palace's sales staff: no false estimates. No grandiose promises. Just the information you need to know exactly what to expect, based on years of experience. Mike is a people person in the truest sense of the word. Whether it's listening to customers, directing contractors, or coordinating with other designers, Michael is dedicated to making sure that Wood Palace Kitchens makes designing and installing your new kitchen as smooth a process as possible. For 20 years, Michael has worked to build a level of trust that people know they can rely on. Builders trust that his design choices will improve both the aesthetic and monetary value of their homes. Contractors trust his ability to "mark out" a work site and make their jobs easier. And customers trust that his advice is based on decades of experience and offered with their best interests in mind.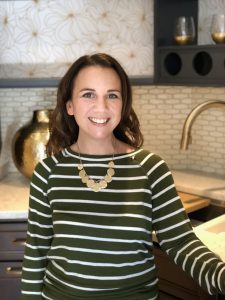 Megan LaForge – Senior Designer. Megan began her Kitchen Design career in 2001. With a degree in Architectural History from NYU and experience in both architectural and interior design firms, Megan brings a broad range of skills to her position as Senior Designer. She works closely with clients and contractors, coworkers and vendors on every aspect of the project for a comprehensive and cohesive result. Her strategic use of materials creates custom, unique and functional spaces. Megan's specialty is creating a high end look for all her clients, regardless of budget. Residing in Providence RI, Megan enjoys renovating her own historic home and is a proud hockey mom of two, spending most of her weekends either at a rink or driving to one
Pamela Adams- Sales/Designer. Pam brings over 20 years experience to her position as Sales/Designer at Wood Palace Kitchens. With experience in cabinet manufacturing, engineering, and complex supply chain systems, she brings knowledge and expertise of remodeling from start to finish. When working with large scale builders or individual homeowners, her goal is to to take your project from conception to completion as smoothly as possible. She says "Whether you are a chef, baker or just an average family that spends a lot of time in your kitchen, I can assist you in creating that vision." A Massachusetts native, she spent many years in sunny Arizona until returning to New Englalnd in 2018. Pam's happiness outside of WPK includes long walks on the beach with her 4-legged fur babies, her family and her 2 wonderful grandchildren.
Barbi Izzo – Office Manager, Finance Manager and Executive Assistant to Tim Holick. A organizational dynamo, Barbi is always thinking three steps ahead. Her expertise and attention to detail make it easy to tackle a hectic schedule like Tim's. Active in the local Chambers of Commerce, she is a pro at networking and enjoys hosting our annual after hours with the Metro South Chamber. In the kitchen, she loves to cook, bake, and eat, concentrating mainly on her two favorite food groups: butter and coffee. Barbi lives in Plymouth, where she enjoys restoring her historic home, one room at a time. She can be found knitting in the winter, gardening in the summer and spending time with her grandchildren all year long. MEET BARBI
Aimee Logan – Showroom Coordinator Aimee is often the first person you will meet when visiting our showroom. Aimee's career in design spans the fashion, photography and stationery industries. She was very happy to join the team in 2017 as showroom stylist and design apprentice. Aimee is passionate about interior design trends, and loves working with clients to compose compelling color combinations. She says "I love to see a kitchen that really expresses the personality of the homeowner". When she's not experimenting with a new recipe in our working kitchen, she's sharing her cooking adventures (and misadventures) with Tim on the Food-A-Holick Radio Show. In her free time, this mother of two small children enjoys doing laundry, stepping on legos in the dark and rare moments alone with her husband.
Roland Dumas-Purchasing. Roland has been a proud member of the Wood Palace Team for over 20 years, beginning his early career in the manufacturing days. With vast experience in every aspect of the industry, from construction to installation to customer service and more, Roland considers himself a "Jack of All Trades". His sharp attention to detail in the current position of Purchasing Agent ensures that every contract and plan that crosses his desk is thoroughly examined before the order is placed. The sales staff can always rely on Roland's meticulous accuracy. Always willing to help a customer or coworker solve any problem, Roland's Yankee ingenuity is indispensable around the office. Whether adjusting showroom displays or defending us against rogue birds in the warehouse, we can always count on him to MacGyver his way out of any situation.
Frada Marvel – Order Entry Coordinator Frada joined Wood Palace Kitchens in 2001 as our Order Entry Coordinator but has many other duties as well. When you call Wood Palace, it is usually Frada that you talk to first. She also is responsible for stocking our Hardware items, Countertops, Faucets, and Sinks. Added to her duties has been to coordinate with the Sales/Designer team to make sure all items for each order are correct and complete for the Installers. Frada is always friendly not only with our staff but with our customers and vendors and she enjoys making them all feel comfortable when they communicate with our company.
Frada has lived in different areas of the country and spent a considerable amount of time in California raising her family while working for the University of California in San Diego. In her free time Frada enjoys cooking and working in her yard but her true joy is her children and grandchildren. They are the ones that make her the happiest.
Joe Zinni – Marketing and Events Joseph Zinni came to Wood Palace in 2015 after a 40 year friendship with Tim. Seeking a change from 20 years in the restaurant equipment industry, Joe now holds the position of Marketing and Business Development Manager. His main objective is to expose Wood Palace Kitchens to the local community and to brand Timothy J Holick the man. Working closely with the Food-A-Holick Radio show to develop topics and coordinate guest hosts, Joe can often be heard on the air himself, sharing his love of food, family and friends. Always the life of the party, Joe enjoys collaborating with Aimee to host our Showroom Events. In Joe's off hours, he likes spending time with his wife Cindy and daughter Emma having fun taking rides to the beach or flying kites, and often he volunteers his time at the local vocational high schools. MEET JOE