Virtual Design Services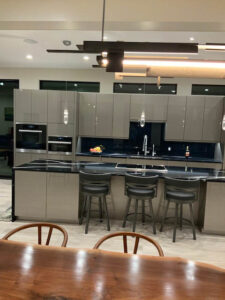 We've all been spending a lot of time at home lately. If you're anything like us, you've been thinking about ways to make it better. When it comes to your kitchen, let Wood Palace Kitchens assist with our Virtual Design Services. Almost everything can be done online, via email and virtual meeting apps. Get started on a kitchen renovation without ever having to leave your home!
HOW IT WORKS:
FIRST MEETING, over the phone. We get to know you and your needs. You'll speak to a designer to get an idea of your goals. Are you in need of a refresh, or a complete redesign? Are you planning to live in your home or sell in the next few years? What parts of your kitchen could function better for you? Many factors go into how we approach each design, and are specific to each client. It's all part of our Dream First concept.
SECOND MEETING, via zoom or any visual platform you like. We get to know your space and guide you in taking some measurements. You will need a tape measure, but no expertise. We can get a design started based on basic measurements, but will always confirm dimensions in person at a later date. We'll help you discover your style with our Digital Dream Boards and share ideas through Houzz and Pinterest. New to Zoom? Read this for tips and tricks, as well as security and privacy concerns.
THIRD MEETING, via email We show you some design concepts and help you to select colors and styles through our cabinet manufacturer's websites. You can browse appliances, countertops and hardware selections online as well. We will then present you with a quote for your project, and you will have everything lined up whenever you are ready to start the project.