Testimonials
Wood Palace takes great pride in seeing that all of our clients are more than satisfied with their new kitchen. We are proud of our family of clients at Wood Palace, and we're always looking to welcome in new friends. That's why when you refer a new client to us, and they purchase a new kitchen from us, we will make sure that you receive a reward for your efforts. Whenever you send us a new customer, we will distribute a check in the amount of $250.00. Also, we will issue a complimentary $100.00 upgrade allowance with the purchase of their new Wood Palace kitchen.
It's just another way Wood Palace wants to prove that we put customers first. We want to build a lasting, positive relationship with our clients that makes them not only proud to be a part of our Wood Palace family, but proud to help it grow.
Refer a Friend
Click below to print out a Client Referral Card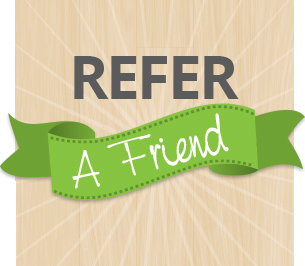 We ask our customers to Dream First, and we listen to what their dreams mean to them. Our excellent track record for quality workmanship comes from what our customers believe us to be. Countless customers have written to thank us for our help in creating the dream kitchen they've always wanted. This is just a small sample of testimonials offered to us by people who have joined our ever-expanding family of satisfied customers!
Francis and Evelyn Ferioli
"We wanted to thank you for our beautiful kitchen! Everything that you designed came out perfect. I worried that the island would be too big; that the counter sitting for three stools would not work; that I would not have enough storage. All my worrying was for nothing. The design is perfect.
We also worried about being in Florida for 3 months. We were away when the kitchen was installed. Thought we should have stayed home. Would there be any damage to our hardwood floors, or anything else that we would not know about until we got home? And again, everything was fine.
Because we were away, I asked you to pick out our sinks. I said two sinks. One for large pans, and a smaller sink, again perfect.
We can not thank you enough. You listened to all of our concerns, and took care of them. You are honest, and reliable, and your work is meticulous.
Thank you for our beautiful kitchen!
P.S. Thank you for directing us to Paul at Appliance One, our appliances are great too."
Carol Abreu
"Everyone who comes to my house says; "My God, this is like a showroom – it is right out of a magazine! We get a lot of "WOW's!"
I love my wine fridge, cook top, and built-in fridge. I especially love my double wall oven because I enjoy cooking and baking and I can do them both at the same time.
Wood Palace did the kitchen when the house was built years ago and they did such a great job that they were the only ones I would talk to when we decided to go for a new kitchen.
Tim listened to what we wanted and we couldn't fit it in, so he suggested we take out the eat-in section and it was exactly what we needed. They even did a lot of those little "extras" that they did not have to do, but that made such a difference."
Lil Holbrook
"Our experience with Wood Palace Kitchens was fabulous! We are more than pleased with the work, craftsmanship, and professionalism of the Wood Palace staff. We shared our ideas with Pam and she listened to everything we had to say. She came to the house and spent some time getting to know us and our needs. She was very accommodating and made some great suggestions.
We installed an island and eliminated the kitchen table and it was a great idea. I love being able to cook and be part of the group. The people are right there and there is no pressure entertaining.
I was leary of the warming drawer but it was a life saver. When our son comes home his dinner is warm and he is ready to go. I love the pantry. Everything is right there and there is nothing cluttering up the kitchen. I also love the double oven."
Lida Benoit
"Our kitchen was originally two rooms that were made into one room by taking out the dining room wall. Wood Palace was instrumental in the process because all of the subcontractors worked off the precise plans and measurements they drew up.
We did a built in desk and an island, took out the wall, and we have two different colors of maple. We love the variety and we never could have done this project without the Wood Palace staff leading the way.
I love to cook and entertain and we have had 50 people in here and between the kitchen and dining room and never felt crowded. It is very nice when people come over and just hang out. We have a great time.
It is easier, more relaxing, and I actually look forward to visitors. When I am cooking people can sit on the barstools at the counter and we can actually talk to each other."
Emily Waxman
"OUR KITCHEN IS THE PLACE EVERYBODY GATHERS AND IT IS A LOT OF FUN BEING IN IT. Every person who comes into the house comments on the kitchen. People are in awe! I used a lot of color combinations. They love the layout. People go crazy over our kitchen and we love it because it is the whole heart of the home.
My experience with Wood Palace Kitchens was incredible. I worked primarily with Tim and he was extremely helpful. He held my hand all the way through the process and I needed that. He was just a joy to work with.
In this day and age you just don't get people to hold your hand and take care of you like Tim did."