Tim Holick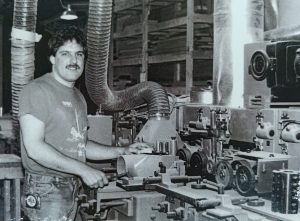 Tim Holick has spent over four decades perfecting the art of design in the kitchen and bath world. His early career in framing and building all types of construction inspired him to specialize in kitchens and baths with Wood Palace Kitchens. Building his business from the ground up, he has dedicated many years to developing successful strategies for his clients, employees and all of Wood Palace's vendors.
Tim's specialty and passion is working with upscale residential homes. His work can be found in prominent neighborhoods from New Jersey to Nantucket and throughout Massachusetts, including Pine Hills in Plymouth. If you are that discerning homeowner, you can expect a consultation with Tim to conceptualize and solidify all the elements of your dream into a reality. He will work closely with you to define a signature style and apply it to the design, the cabinets and the color selections. You can feel confident in your decisions and in the Wood Palace team to escort you through planning stages, to the layout, and all the way through installation.
Success to Tim is all about the end result, building positive relationships in order to achieve the best possible experience for Wood Palace's clients. Through years of interaction with prospective clients, Tim developed the "Dream First" concept, book and "Dream First" systems.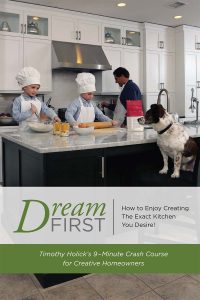 His unique approach to kitchen design is all about actively listening to clients throughout the design process and blending their thoughts with his design expertise. Tim says "It's not about what WE think or want for their kitchen as designers, it's ALL about them, the client. I think that is why we hear remarks from our clients like; "I never believed it could look this way!', or 'Wow, you really were listening' and 'I can't wait to cook in this kitchen.' It always brings a smile to my face knowing that we achieved results with my clients."
Make an appointment with Tim to start your own Dream First process. You deserve the attention and nothing but the best for your space and your family. Tim won't settle for anything but the best and neither should you. Tim is known for saying; "Good design never costs any more than a bad design and it will always make you smile with content." Dream First!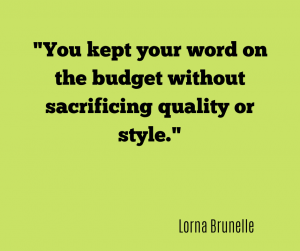 See More Testimonials and Reviews
Client review from Lorna Brunelle:
"One thing I noticed is your willingness to stay on budget. Even people that have upscale residential homes, with a substantial budget, still need to respect that budget. One thing I really admired about you when we worked together was your honesty and integrity. You kept your word on the budget without sacrificing quality or style. I also appreciated was how adaptable you were. I changed my mind on pulls for the cabinets two or three times and you were so darn patient. You kept me in your thoughts and didn't settle until you knew we found the answer. Case in point; with the granite verses quartz center island in our home. The small demonstration piece of granite seemed mostly white in showroom. Once I saw the piece on the lot, I realized granite has movement running through it. I was really concerned because the look didn't fit the aesthetics I had in my mind. So, YOU troubleshot it and took us to Bridgewater and showed me quartz. Who does this??? YOU. We were amazed at your patience, attention to detail, and your quest for excellence."