Showroom Tour Series Part 1
Here at Wood Palace Kitchens, we are proud to offer over 15 kitchen and bath displays to inspire you. We update them every few years so there is always something new and fresh to see. As we start the early stages of the design process, we encourage clients to dive in and explore all of our displays as they begin the "Dream First" Process. While nothing compares to an in-person showroom tour, this blog series is a digital exploration of some of our latest additions. To get a closer view and a personal tour with one of our designers, contact us to schedule an appointment.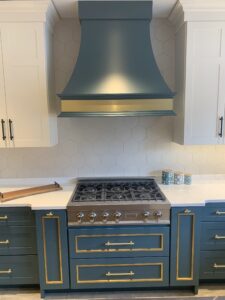 Today we explore one of our newest displays by Plato Woodwork.
Plato Woodwork is a full custom cabinetry line, a truly personalized product with endless options to tailor to your taste, style and needs. Manufactured in Plato, MN for 125 years, this is one of our top tier brands. The sky's the limit when you design a kitchen with Plato Woodwork. While the Plato factory currently boasts the longest lead times of all our cabinet brands, the finished product is well worth the wait.
This kitchen makes a grand statement with an elegant curved hood and brushed brass accents. Dark teal "Marine" grounds the base cabinets while the wall cabinets in "Essential White" lift the eye and make the tall ceilings appear even more impressive. A straight Shaker door with clean lines is a popular choice for its understated simplicity.
Favorite features include:
Square Corner Wall Cabinet with clear glass. Bi-fold doors allow maximum visibility of the cabinet interior. We feel it far surpasses the diagonal corner cabinets of the past in terms of function and style. Interior cabinet lighting makes our décor pop, but this cabinet can be done without glass to maximize your storage.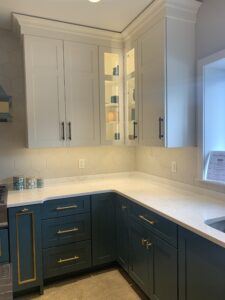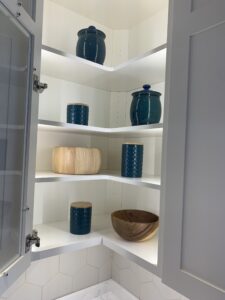 Spice Pullout cabinet is something every kitchen can benefit from- it maximizes a narrow space and allows the chef's favorite seasonings to be close at hand.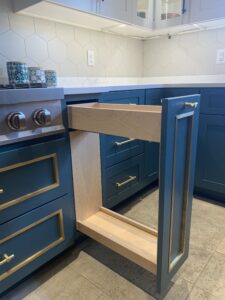 LX Viatera Countertops in Adiago Gold have a subtle pattern with depth and warmth that compliments both wood and paint finishes.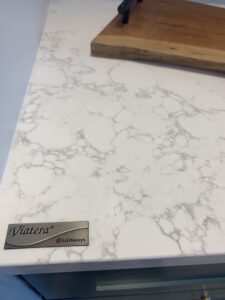 Schaub Hardware in Fonce mixes not only finish, but sizes and style. We love to help clients source hardware collections with options that compliment every cabinet. Here, we used a mix of knobs and pulls in various sizes to maintain appealing proportions.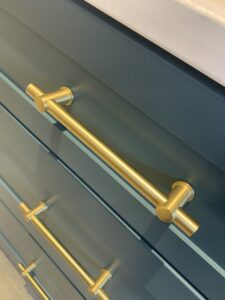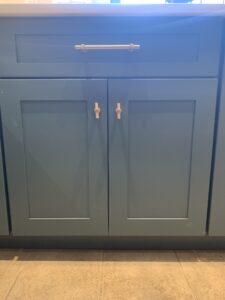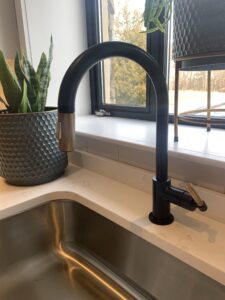 The Brizo Faucet combines Matte Black and Brushed Brass in one fixture. That's speaks to the longevity of mixed metals style
Often people feel they need to match all metallic finishes in a home. While that is totally acceptable, we encourage clients to think outside the box if their taste dictates otherwise. We used Matte Black, Brushed Brass and Stainless Steel Appliances in this space and the result is balanced and visually appealing. When mixing metals is done thoughtfully, creates a more custom look.
L-Shaped Island: "Sand" Stain on Quartersawn Oak warms the space and showcases the workmanship of the beautifully crafted Inset Cabinetry. The Banquette creates a seating area and provides secret storage with drawers in the bench.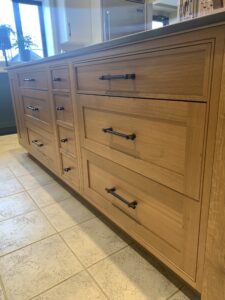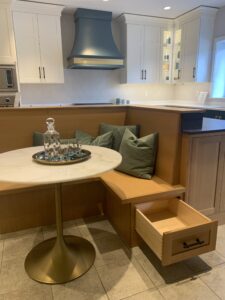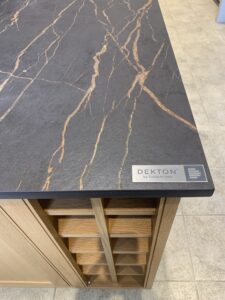 Dekton Countertops in "Laurent" have a distinctly natural look and texture while being one of the most durable options on the market
We hope this inspires you to dream about your own kitchen renovation. Please let us know what you think of our latest display. What is your favorite feature? What would you like to see in future displays? Please share your thoughts!
There is so much more to see in our showroom, we would love to show you in person. If you are inspired by this post, please contact us to make a showroom appointment.
This entry was posted in
Showroom
on
.