Watermelon Granita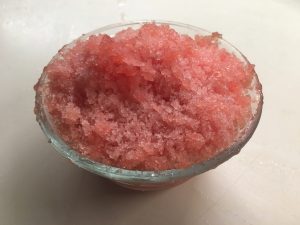 This is a perfect way to use watermelon that will go bad if not eaten soon! Not to mention very refreshing!
INGREDIENTS
4 cups (1 3/4 pounds) cubed seedless watermelon (from a 4-lb. melon)
1/2 cup sugar
1 tablespoon fresh lime juice
REPARATION
Purée all ingredients in a blender until smooth. Pour into a 9 x 9 x 2″ metal baking pan. Freeze mixture for 1 hour. Stir, mashing any frozen parts with the back of a fork. Cover and freeze mixture until firm, about 2 hours.
Using a fork, scrape granita vigorously to form icy flakes. DO AHEAD Can be made 3 days ahead. Cover tightly with foil and keep frozen. Give it a quick scrape before serving.
This entry was posted in
Recipes
on
.