Transitional Cottage Classic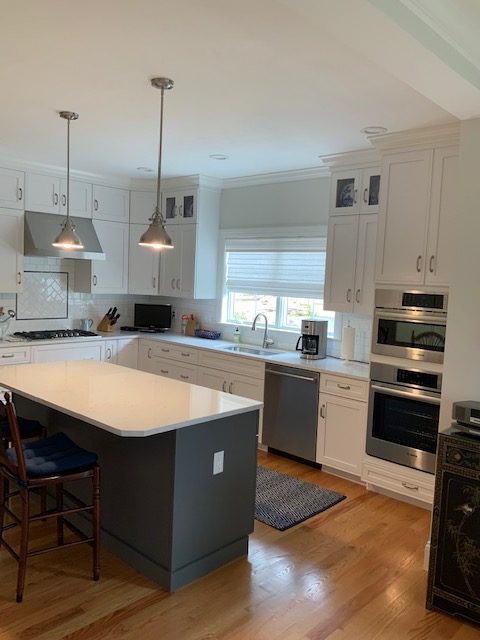 This months featured kitchen is a classic, transitional kitchen. Today's tastes are still leaning toward a classic look in a modern/cottage style. I like to call it the "quiet calm." Simple lines to give the room a rich but elegant look. We designed beautiful transom cabinets to the ceiling to give the room that old world charm and custom built-in look. We accented only two cabinets with glass doors to not over power the area. A good transitional look needs to have simple lines, not cluttered, when completed. I love the contrast of the deep grey island that goes well with the white cabinets and also accents the beautiful oak wood flooring.
Efficiency and simple lines were the theme in her kitchen and that's why we chose the Lyssa door style from Omega. It gives the room a modern twist and still accomplishes the simple but rich look that she was after. I've noticed the trend in the last 10 years with simple lined door styles and they continue to dominate the look. She chose the classic Pearl Opaque finish on the main L-shape and Omega's Battleship Grey color on the island to not only contrast but to give the island a pop. The simple farmhouse style stainless handles really topped off the geometrical feel of the door style.
When it came to the counter tops, a nice classic marble look was achieved with Cambria's Quartz in the Swanbridge color. It's soft but rich looking. Cararra Marble was such a popular counter color in the early to mid 20th century in a lot of those older colonial and Victorian homes of that era. Modern day quartz counters have taken on that look and give today's clients a care-free material that they don't have to worry about sealing or scratching. It's such a popular classic look today.
The appliances chosen were all stainless to give the kitchen an industrial, modern feel with a separate cook top. I love the simple tile splash in the classic subway white tile and the beautiful herring bone accent pattern in back on the cook top. It's a nice contrast for such a classic look.
Our clients were very happy with the results. They now have a wonderful kitchen to work and entertain in. It fits perfectly in these smaller, cottage style homes that have become so popular. I find that today's clients want their kitchen to be a reflection of their own personality and I feel we accomplished that in this home. They were wonderful clients with whom we all enjoyed working. It's a classic "Dream First" story with a great ending!
Bon Appetit!
Tim (Food A Holick)
This entry was posted in
Kitchen Design
on
.