Turkey Casserole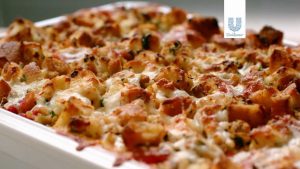 Who doesn't love leftover turkey? Every time we have turkey, I make this casserole with the leftovers and maybe a few extra vegetables. It's a big hit.
Ingredients:
3c cooked turkey, light or dark meat, chopped into bite sized pieces
l medium onion, diced
3 carrots, diced
2 stalks celery, diced
1c frozen peas, thawed, or green beans cut into bite sized pieces
2T olive oil, coconut oil or turkey fat
1-2c leftover gravy
3-4c leftover stuffing
Saute the onions, carrots and celery in the oil or turkey fat until the vegetables are soft. Add the remaining vegetables. Heat through. Add the turkey. Add enough gravy to moisten the filling. Turn the mixture into a 13 x 9″ casserole dish. Put the stuffing on top of the casserole to the desired thickness.
Bake in the oven at 350 degrees for 20-30 minutes or until heated through. Serve with cranberry sauce if desired.
Note: I never use any extra herbs, salt or pepper because the turkey, stuffing and gravy already have great flavor.
This entry was posted in
Recipes
on
.