Mocha Yule Log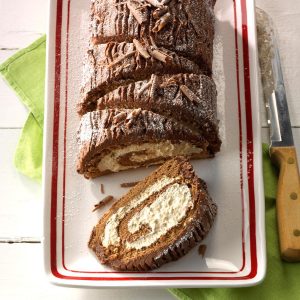 TOTAL TIME: Prep: 65 min. + chilling Bake: 15 min. + cooling YIELD: 12 servings.
Ingredients
5 large eggs, separated
1/2 cup cake flour
1/4 cup baking cocoa
1/4 teaspoon salt
1 cup sugar, divided
1/2 teaspoon cream of tartar
FILLING:
1-1/2 teaspoons instant coffee granules
1 cup heavy whipping cream
1/2 cup confectioners' sugar
FROSTING:
1/3 cup butter, softened
2 cups confectioners' sugar
1/3 cup baking cocoa
1 tablespoon brewed coffee, cooled
1-1/2 teaspoons vanilla extract
2 to 3 tablespoons 2% milk
Directions
Place egg whites in a small bowl; let stand at room temperature 30 minutes.
Meanwhile, preheat oven to 350°. Line bottom of a greased 15x10x1-in. pan with parchment; grease parchment. Sift flour, cocoa and salt together twice. In a large bowl, beat egg yolks until slightly thickened. Gradually add 1/2 cup sugar, beating on high speed until thick and lemon-colored. Fold in flour mixture.
Add cream of tartar to egg whites; with clean beaters, beat on medium until soft peaks form. Gradually add remaining sugar, 1 tablespoon at a time, beating on high after each addition until sugar is dissolved. Continue beating until soft glossy peaks form. Fold a fourth of the whites into batter, then fold in remaining whites. Transfer to prepared pan, spreading evenly.
Bake until top springs back when lightly touched, 12-15 minutes (do not overbake). Cool 5 minutes. Invert onto a tea towel dusted lightly with cocoa. Gently peel off parchment. Roll up cake in the towel jelly-roll style, starting with a short side. Cool completely on a wire rack.
For filling, in a bowl, dissolve coffee granules in cream; beat until it begins to thicken. Add sugar; beat until stiff peaks form. Unroll cake; spread filling over cake to within 1/2 in. of edges. Roll up again, without towel; trim ends. Transfer to a platter, seam side down. Refrigerate, covered, until cold.
For frosting, beat all ingredients until smooth. Spread over cake. Using a fork, make lines in frosting to resemble tree bark. Refrigerate until serving.
Recipe from RDA Enthusiast Brands, LLC
This entry was posted in
Recipes
on
.