Seafood Lasagna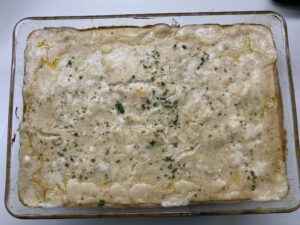 Homemade Pasta Ingredients
2 cups of pasta flour or all-purpose flour
3 eggs at room temperature
2 tbsp olive oil
1 tsp salt
water as needed and additional flour
Preparation:
On a clean surface or large bowl, create a well in the middle and add the pasta ingredients. Using a fork, start to gently scramble the eggs and add the flour and continue to mix until you can form a ball of dough.
Knead the dough on the work surface until the dough is soft and smooth. Let the dough rest for approximately 30 minutes. If you don't have time for the dough to rest it will still work.
Seafood Lasagna Ingredients:
Fresh pasta sheets
1 onion minced or small dice
2 tbsp olive oil
1/2 cup butter
2 tbsp butter
1 tsp tarragon, optional
1 tbsp fresh parsley
1/2 cup chicken or vegetable broth or stock
1 bottle good quality clam juice, optional can substitute chicken or vegetable broth
1/4 cup dry white wine or rose
1 lb sea scallops cut in half
1 lb shrimp, peeled and deveined
1 can fresh crabmeat, optional
1 cup all-purpose flour
1 1/2 cup milk
1 cup heavy cream or half and half
1 cup shredded parmesan or Romano
Preparation:
In a large skillet, melt the butter, add the oil, and sauté the onions until tender. Add the broth, wine, and clam juice and bring to a boil.
Add the scallops and shrimp, cook until both are cooked then turn off the heat. Remove the shrimp and scallops to a bowl using a slotted spoon and reserve cooking liquid.
In a saucepan, melt the 1/2 cup butter with the flour and cook until forms a paste and add the reserved cooking liquid and milk and continue to cook until thickened.
Remove from heat and stir in the cream and half of the cheese. Add half of the white sauce to the cooked seafood and add crab meat, if using. Reserve other half of the white sauce for putting the lasagna together.
Preheat oven to 350 and grease a 13×9 inch baking dish. Roll out the fresh pasta into large square sheets, very thin. Layer pasta sheets, add seafood mixture, spread evenly, add white sauce, sprinkle with grated cheese and continue to layer. (3 layers)
Bake uncovered for about 45 minutes. Allow an additional 15 minutes to cool and set before serving.
Courtesy of F/V Isabel and Lilee X Chef Michele Grillo
This entry was posted in
Recipes
on
.