Refresh Kitchen Design
Sometimes, all we need in our kitchen design is a refresh. That is what these young clients were looking for in their home. The client, who is handy, had already made his mark in the backsplash area above the stove. He had created a nice open shelved area with beautiful mosaic tile. He had asked if he could keep all of that and I said, absolutely. Even though we were getting rid of the old peninsula, putting in an island and all new cabinetry, we could keep his work of art. I find it important to keep features that a client spends so much time creating.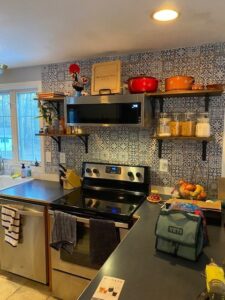 A Refresh Kitchen Design is Easier Than a Remodel
When it comes to refreshing a kitchen area where appliances stay where they are, it's important to add your taste to the colors and features to make it different. Building in the fridge, adding an apron farmhouse sink, mixing colors and counters, become important features to a client. I find it adds their personality to the kitchen. In here, they mixed the colors of the cabinets where they went with a taupe color on the main L-Shape area and a bright blue for the island. They chose Omega Cabinetry in their Magnolia and Lapis Blue Opaque paints. They topped it off with beautiful Carrara Marble on the L-Shape and an oiled natural butcher block top on the island. I personally have a piece of butcher block at the end of my island and I do everything on that from rolling dough to cutting. It's a nice surface for those things.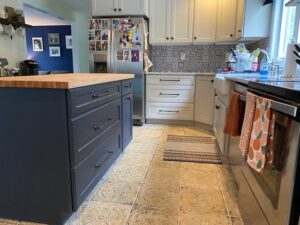 They added some older, worn hardware for the doors and drawers which really added to the farmhouse look that they were going for. We always say that the hardware is the jewelry of cabinetry. He also continued his mosaic tile from the sink to the fridge and above the window, completing the look of the splash. Their personality reflected this space perfectly.
Dream First!
The Dream First concept really shines with clients like this who have a dream and need help putting it all together. We love picking their brains and coming up with ideas that match not only their taste but the function and looks of the kitchen.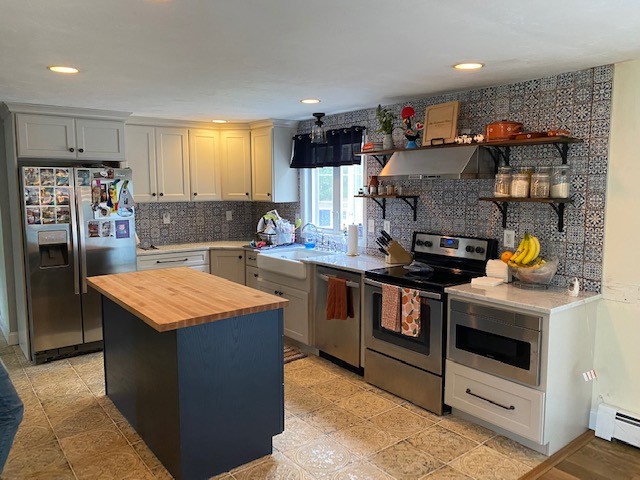 It's fun working with passionate clients who want to transform their kitchen space and it's great to hear them gush with pride and happiness when the project is complete. Their comment to me in the beginning was that it's a real small space that wasn't a big deal, but every kitchen is a big deal when it comes to refreshing and changing the scenery and cooking space in the heart of the home.
Bon Appetit!
Tim (Food A Holick)
This entry was posted in
Kitchen Remodeling
on
.