Lemon Primavera Bowties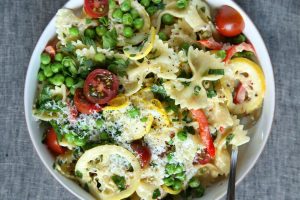 INGREDIENTS
1
small red bell pepper, seeded and cut into strips
1
small yellow zucchini, sliced into thin rounds
Freshly ground black pepper
1 c.
cherry tomatoes, halved
1/2 c.
Pecorino Romano cheese, plus more for serving
Bring an 8-quart stock pot of water to a boil and generously season with salt. Cook pasta according to package instructions until al dente. Meanwhile, set up bowl of cold water with ice cubes. Drain pasta, then cook peas in pasta water for 2 minutes. Drain peas and rinse under cold water; transfer to ice bath.
In a large sauté pan over medium-low heat add a drizzle of olive oil and cook garlic and onions until softened, 2 minutes. Stir in bell pepper and zucchini; season with salt and pepper. Cook for 3 to 4 minutes. Add cream, 1 teaspoon lemon zest, 1/2 cup lemon juice, and 1 lemon, thinly sliced; bring to a boil and reduce to low heat. Fold in pasta, drained peas, tomatoes, cheese and parsley.
Transfer to a large serving platter and garnish with extra cheese and pepper.
This recipe is courtesy of delish.com
This entry was posted in
Recipes
on
.