Dream a Little Dream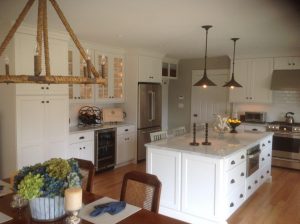 I can't help but sit here and ponder on this day of January 10, 2019 on the 40 years that has gone by since I started Wood Palace in my mother's backyard garage in 1979. I was still a kid, just 2 years out of high school, and ready to contribute to the business world. I have to admit that I hadn't a clue on what it took to run a business but there was this spark inside that inspired me. In the beginning, people often asked me if I had taken over my dad's business.
Unfortunately, I would have to them that my dad passed away at the young age of 48 when I was only 13 years old. He did, however, own his own business, and was a hard worker- selling homemade juice door to door, 6 days a week. But my dad always left Sundays for our family. I look back at those Sundays with a smile because he would take us kids to visit relatives and friends after breakfast so that my mom had some alone time. We would return home to the heavenly smell of a roast in the oven and enjoy our Sunday dinner at 1:00. Best of all, we were there together as a family, stuffing ourselves and telling stories of the week past.
It's actually a strange story of how I started Wood Palace. In the fall of 1978, I decided that I wanted to enlist in the Marines and travel the world. My dad served in WWII and would share stories about the pride of being a Marine. When I sought the advice of my brother-in-law Lenny, who served as a Marine in Vietnam, he felt that I would get more out of the Air Force. So, I sat down with an Air Force recruiter and before I knew it I passed the written test, and it was on to the physical test. Which I didn't worry about because I was a physical fitness freak at the time. I was lifting weights, running, and playing semi-pro football.
That's when I decided to tell my mother that I was leaving home to join the Air Force. Well, that didn't go over well since I was the oldest left in the house, with younger twin brothers behind me. She cried and asked "what is going to happen to us if you leave?" I have to admit again that I didn't think of it that way. So I decided to stay home to help out the family. I knew my contribution had to be significant, so I decided to start Wood Palace, and that is how this company came about.
As I look back, I didn't have any business starting a company with no business background. There is another part of me though that says that there is nothing wrong with having a dream with a lot of skill and energy and realizing that dream forward. There have been a lot of great things that have come about with my decision, and a lot of not so great things. But I have to say that the knowledge I received from the latter was invaluable. I'm a firm believer in having a dream and moving forward with that dream with conviction and vision. To not be afraid of what other people think and not let their thoughts derail you from realizing your dream. Life is too short not to live it to the fullest.
I will move Wood Palace forward on our 40th anniversary with that same conviction and dream that I had 40 years ago while highlighting the "Dream First" concept that we created 6 years ago. Dream First has been an integral part of helping our clients realize their dream kitchen and helping fit those dreams into their budget. I will keep reflecting back on all of the former and current staff members that have helped build Wood Palace into a finely oiled machine. I will look back at all of our clients who helped us cross the 30 million dollar mark last year. We wouldn't be where we are without them.
I want to thank you all for being part of the Wood Palace family over the years and helping us reach this milestone. We hope we impacted your lives with that kitchen of your dreams as much as you impacted ours. Thank you again for trusting us with probably the most sacred room in your home. All of us here at Wood Palace hope you can spread the Dream First culture to those ones around you, so that they can experience it all too. I'm excited to lead this company forward this year, celebrating you all and celebrating the American Dream of building a successful business. We look forward to many celebratory events throughout the year and we hope you can join us!
To all of our staff here at Wood Palace, I want to say that I am blessed to be working with such a focused, passionate and forward-thinking staff. I look forward to leading you all to greatness and working together to change peoples' lives, and their homes! Thank you for being a part!
Dream First and everything else will come together!
Bon Appetit!
Tim (Food A Holick)
P.S. I chose the kitchen picture above because it epitomizes a client that always Dreams First in every home that we have helped them with (which there were many) This client has contributed to so much of our success in business and given us so much more personally! Thank You.
This entry was posted in Inspiration on January 10, 2019 by wpalace.
This entry was posted in
Inspiration
on
.