CREAMY WILD RICE SOUP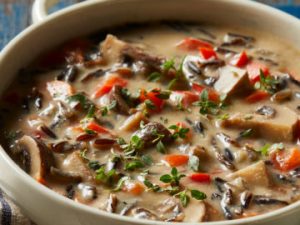 Let's start the new year with a healthy, hearty, vegan soup!
By Carla Christian
Makes 6 cups
Preparation Time: 20 minutes
Ready In: 1 hour 15 minutes
INGREDIENTS:
4 cups vegetable stock
1 (8-ounce) package button
mushrooms, trimmed and quartered
¾ cup uncooked wild rice, rinsed and
drained
½ cup thinly sliced leek (white part
only)
4 cloves garlic, minced
1 cup chopped red bell pepper
½ cup chopped carrot
¼ teaspoon sea salt
¼ cup almond flour
¼ cup chickpea flour
1 tablespoon snipped fresh thyme
1 tablespoon white wine vinegar
Instructions
1. Combine the stock, mushrooms, wild rice, leek, and garlic in a 5-quart Dutch oven or soup pot. Bring to a boil over high heat; reduce heat to medium-low. Cover and simmer for 45 to 50 minutes or until the rice is tender (kernels will start to pop open). Stir in the bell peppers, carrot, and salt. Cover and simmer for 8 minutes more.
2. Combine the almond flour and chickpea flour in a small bowl; stir in ¼ cup water. Stir the mixture into the soup. Cook, stirring constantly, for 1 to 2 minutes or until thick and bubbly. Stir in up to ½ cup more water to reach the desired consistency. Stir in the thyme and vinegar.
This entry was posted in
Recipes
on
.