3 Kitchen Design Mistakes We Can Help You Avoid
There is a lot to think about in kitchen design but it doesn't have to be overwhelming. Just think it through. Our Wood Palace Kitchen Designers can help you make mistakes.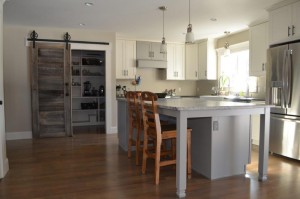 Appliance Selection
Arlene was excited about her appliance selections. They were top of the line, beautiful and served her every day needs nicely. But when it came to whole family gatherings and holidays, she needed more oven space, was always scrambling to get everything ready at the same time for the large crowd. She wished she had thought about this when she was purchasing her new kitchen. It's important to give some serious thought to your appliances when remodeling your kitchen AND to make those decisions very early in the design process. What you choose will impact the kitchen design, how much cabinetry you can have and how easily you will be able to function in your new kitchen when it is complete.
Functionality and Storage
Human beings are very adaptable. When we have something we don't like but can't really change, we "learn to live with it". When thinking about the functionality, storage needs and other kitchen design options, Anne forgot how annoying the placement of her refrigerator was, how difficult it was to find storage for her larger pots and that she had to wipe down the side of the cabinet next to the trash can at least once a day. When you are redesigning your kitchen, it is time to shed all of the things you "learned to live with" and put in the storage and the options that eliminate those problems. The Dream First process helps you learn how to eliminate what you don't like about your current kitchen. A designer can help you live without those annoyances.
Countertops
When Cindy thought of countertops, she thought of one thing, how they were going to match the cabinets. She picked a beautiful granite with lots of interest. It looked great, but because it had so many elements in the stone, it was porous and required more care than she realized. Although she loved the look, she didn't like the extra care she had to take with it or the work to keep it sealed. There are many different countertop materials and all have pros and cons. Be sure you are working with a designer who is going to help you understand them and not just let you select based on looks.
Let Wood Palace help you "Dream First" and avoid kitchen design mistakes. Visit us at www.WoodPalaceKitchens.com
This entry was posted in
Kitchen Design
on
.