Timeless Transitional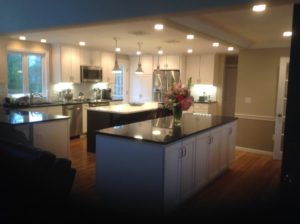 Sometimes when a client buys an existing home, the layout of the home does not fit their taste or idea of an ideal space. Sometimes it's an easy transition but sometimes, wall have to come down. This project fits the latter.
When my clients bought this home, one of our contractors was called in to resurrect the space. One main wall leading into the family room (which is the outside of the home), plus another dining room wall needed to come down so that it was wide open for their guests when they hosted the football games. Today's younger couples tend to want a more open floorplan in their homes. When building new is out of the question, buying an older home and re-doing it to their liking seems to be the new trend. I also find that the younger coupes love to cook, so a new kitchen space is first on their agenda.
The home was a lovely older colonial home in Walpole. Our builder found it easy to open the space up so that is the direction that we took for the kitchen layout. There is a peninsula in the kitchen along with 2 islands. The peninsula and the main island had seating for up to 7 stools. The island that butted up to the dining area was used as extra kitchen storage and a buffet. This not only gave them room for guests but also gave them plenty of cabinet space.
Transitional was the theme, so white cabinets with a black island fit their transitional and classic taste. Homecrest brand in their Hershing door style gave a classic but clean line. Counter tops were a beautiful, dark Steel Grey granite on the perimeter and a beautiful Silestone quartz marble looking top was selected for the island. The dark and light counters give the room a pop. Cabinets went to the ceiling to maximize their space but also gives it a custom, built-in look. A beautiful satin nickel handle topped off the cabinets like jewelry.
It's a breathtaking space now when you enter into the family room that makes you smile. It is fit now for any party that they choose to have and it's something that they can be proud of. It's not just a looker now, it's a functional and great cooking space for them to use for many years to come.
Bon Appetit
Tim
This entry was posted in
Kitchen Design
,
Kitchen Remodeling
on
.