Tuscan Chicken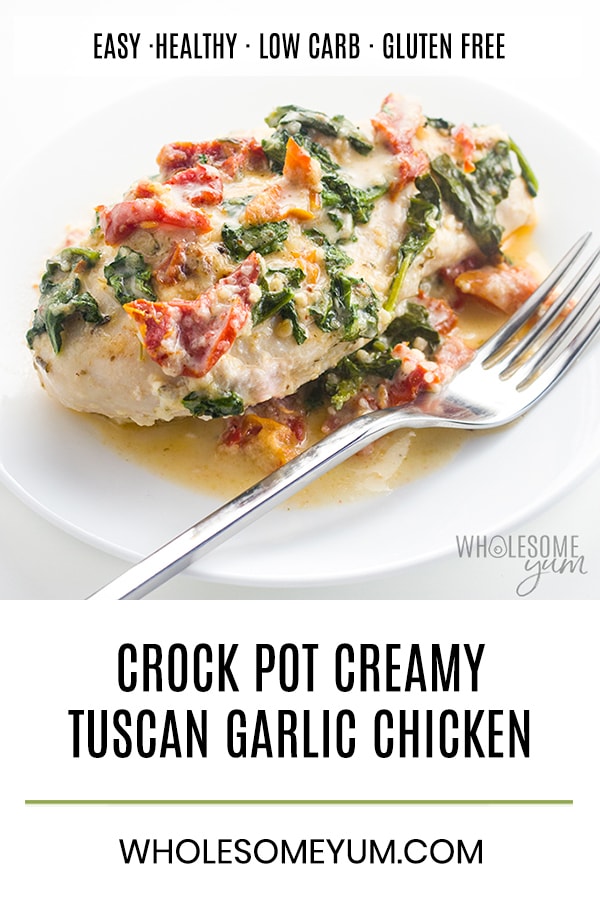 This was meant to be a crock pot, "keto" recipe, but it burned badly in the pot while I was out, so I revised it to be baked in the oven, and it's yummy!
Ingredients:
1 T olive oil
6 cloves garlic, minced
1 c heavy cream
1/3 c chicken broth
3/4 c grated Parmesan cheese
4 6 oz chicken breasts
1 T Italian seasoning
sea salt to taste
black pepper to taste
1/2 c sun dried tomatoes, chopped
2 c fresh baby spinach
Directions:
Season the chicken breasts with the Italian seasoning, salt and pepper. Place in a lightly greased pan. Bake at 350 degrees for 25-30 minutes, until cooked through.
Meanwhile, heat oil in a medium saucepan over medium heat. Add the garlic and saute for about a minute, until fragrant.
Add the cream and the chicken broth. Bring to a gentle simmer, then set heat to low and simmer for about 10 minutes. The sauce will be thick enough to coat the back of a spoon. Whisk in the Parmesan cheese, 1/4 cup at a time, until smooth. Add salt if desired. Add the sun dried tomatoes
Just before serving, add the spinach to the sauce and stir until the spinach is wilted. Serve the sauce over the chicken. Enjoy.
This entry was posted in
Recipes
on
.