Seaside Escape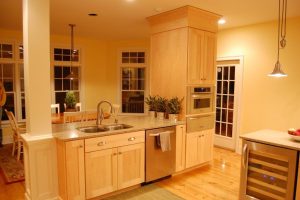 Who doesn't want to live by the ocean year-round? I know that has been one of my wishes for many years. That wish came true for my clients in this month's feature.
Nestled just off the ocean in Onset, just a short walk to the water, sits this seaside escape. I'm lucky to share in the fun of this home every 4th of July weekend at their wonderful annual cookout. They even have an outdoor built-in kitchen and bar area so that guests can enjoy the outdoor beauty, volleyball on the beach, or just sitting by the fire pit.
Tracey loves to cook, and the kitchen was her main focus when they built this home. Simple, sleek and functional were the goals. The island became the home for their sink, and it beautifully divides the table and kitchen area. We nestled the built-in fridge in the perfect nook in the wall, surrounded by wood trim to match the cabinetry. A sleek 36″ commercial stove makes the cooking area a dream, and is perfectly located close to the corner cabinet. It mirrors the look of the tall oven cabinet at the end of the island. A stylish built-in book and picture rack flanks the right of the fridge and ties it all in, keeping with the simple, eclectic flair.
Cabinetry and colors were carefully chosen and it's where paint meets natural maple. I love Omega's simple, wide style Monterey shaker door, as it adds a modern flair without compromising classic. She also chose to bring the cabinets to the ceiling with some extra height upper cabinets that were built into the ceiling with a couple of moldings. It gives that built-in look which compliments the built-in fridge area. Quartz counter tops were chosen for an easy to clean, no-maintenance surface that will always be tested at one of the cookouts.
Tracey had a lot of these ideas in her head as she started out with her choices, we just had to pull it out and put it all together. The results are exactly what she pictured in her mind; a timeless look for many years to come, filled with family and friends, cookouts and parties.
Dream First and let it all come together naturally!
Bon Appetit
Tim (Food A Holick)
This entry was posted in
Kitchen Design
on
.