Thai Basil Eggplant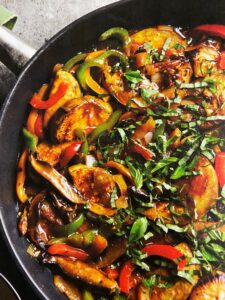 Ingredients:
1 large eggplant, halved lengthwise and cut into 3/4″ slices
3 red, green and/or yellow bell peppers, thinly sliced
1 lb. Portobello mushrooms, stems and gills removed, cut into 1/2″ slices
1c chopped onion
1/4c hoisin sauce
2T reduced sodium soy sauce
3 cloves garlic, minced
2t grated fresh ginger
2t arrowroot powder
1c water
1/2c thinly sliced Thai basil*
4c hot cooked rice
1T sriracha sauce (optional)
Directions:
In an extra-large skillet, cook eggplant, peppers, mushrooms and onion over medium heat 6-10 minutes or until almost tender, stirring occasionally and adding water, 1-2 T at a time as needed to prevent sticking.
In a small bowl, stir together the Hoisin sauce, soy sauce, garlic, ginger and arrowroot powder, and 1c water. Add to the vegetables. Cook and stir 2-3 minutes or until thickened. Stir in half of the basil.
Serve vegetable mixture over rice. Sprinkle with remaining basic and, if desired, sriracha.
*If you can't find Thai basil, add about a cup of sliced fennel to the vegetables and use regular basil.
Recipe from Forks over Knives
This entry was posted in
Recipes
on
.