Shrimp Creole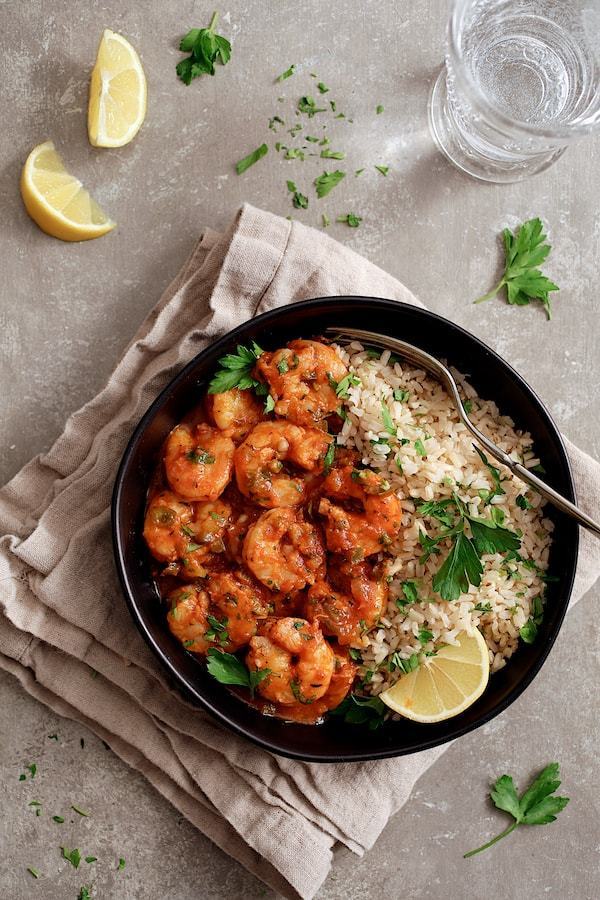 Ingredients:
2 tablespoons canola oil
2 tablespoons butter
1 medium onion, finely chopped
1 medium green bell pepper, seeds and membrane removed finely chopped
2-3 stalks celery (you want about the same amount as green bell pepper)
4 cloves garlic, minced
1 tablespoon Cajun seasoning (or to taste)
1 teaspoon dried thyme
1/2 teaspoon cayenne pepper
1 bay leaf
1 can (15-ounce) tomato sauce
1 cup water (approximately to rinse out the can)
1 tablespoon Worcestershire sauce
1 pound peeled and deveined shrimp, tail removed
Tabasco sauce, to taste
Salt and freshly ground black pepper, to taste
2 tablespoons chopped fresh parsley plus sprigs for garnish
Lemon wedges
Cooked rice, for serving
Directions:
Heat oil and butter over medium-high heat in a skillet or saute pan. Add the onion, pepper and celery.
Reduce heat to medium and cook approximately 10-12 minutes or until vegetables are very soft, adjusting heat as necessary so vegetables don't burn.
Add the garlic, Cajun seasoning, thyme, cayenne pepper and bay leaf. Stir briefly.
Add the tomato sauce, water and Worcestershire.
Bring to a boil. Reduce heat to low and simmer uncovered 8-10 minutes or until sauce thickens.
Stir in the shrimp and cook 1-2 minutes or until just firm.
Add hot sauce, salt and black pepper to taste.
Remove bay leaf, sprinkle with parsley and serve immediately with hot, cooked rice and lemon wedges.
This recipe is from the website From a Chef's Kitchen. It' so good that I make it a couple of times a month!
This entry was posted in
Uncategorized
on
.