Lake Retreat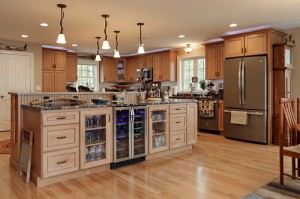 When David and Cameron Marzelli decided to move back east from their home in San Francisco, tearing down their old cottage home on a popular lake in Lakeville became their inspiration for a serene way of life where they could entertain family and friends. They turned to John Scanlon of Scanlon Construction to help make their dream come true. The result is a very open but cozy space where they can entertain and also sit back in a comfy chair to take in the wild life and beautiful water that they call their back yard.
Home plans were drawn up.  The first stop to help them design the kitchen was here at Wood Palace Kitchens. Good friends of theirs with whom they had grown up had used Wood Palace to design their dream space in a couple of their homes, so Wood Palace was an obvious choice. David and Cameron's main objective to this very open space was to be able to sit at their island and enjoy the water while they were having coffee in the morning or a late dinner at sunset. They made this and other wants and needs known to their designer, Tim Holick. Tim's first suggestion was to make sure that this island not only functioned well for the space, but that it also filled the large area that was open to both the living room and the sun room. After going through many draft ideas for the island, the final result was reversing the direction of the island so that it not only accompanied the stool direction, but helped make a nice working/bar area facing the living area to house their wine cooler. Function for their lifestyle was a must in their final design.
Once the final design was captured, materials played the second most important role. They had to reflect the feel of the lake and mood of the decor that they sought. Earthy and old materials were going to be salvaged from the old cottage home and new materials needed to blend in with the open space. Homecrest's Eastport door style in a warm and rich color of Ginger with a Cocoa glaze fit the bill beautifully. The bold and earthy color Green Marinacce granite for the counters with full splash behind the stove completed the look of their lake effect retreat. Ghibli with a honed antique finish was used to top off the upper bar stool area. It was the sand pattern of this stone that married the colossal stone pattern of the Green Maranacce stone everywhere else in the kitchen. One of Dave's favorite pieces is the rustic, worn finish cherry solid wood top that was placed on the small desk area in the kitchen. Omega's Renaissance finish on cherry gave it the old world feeling that he was after.
They didn't just stop at the kitchen with their earthy yet cabin-style taste. The baths were another area where they wanted that luxury, retreat look. The master bath was fitted with Omega's Mecca door style with a grey, weathered look of Porch Swing on cherry. It gives the bath that worn driftwood feel with a beach/modern effect. Black Maranacce granite was used for the counter with a rectangular vanity sink. Old world met today's modern yet classic feel. The lower bath was fitted with Omega's Marion door style in a cinnamon on Pecan finish. Black Marinacce also graced the counter top in this bath giving the space a warm cabin feel. "Natural looking materials played a big part in the whole decor of their home. I was happy to help them out with their selections and design to bring it all together for them so that they can enjoy life in their home on the lake."
Now that they are all moved in and enjoying their home, next up is the design of a long wall in the lower section of the home that walks out to the water. It's a family room space that will house books, electronics and storage. Stay tuned for the creation of this space.
This entry was posted in
cabinetry
on
.