Raised Ranch Retreat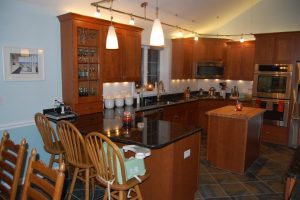 My first home just before I was married was a raised ranch. It was a nice, versatile home with an economical cost of living. The kitchen in these homes are pretty much the same layout and counter space is always at a premium.
Like this month's feature kitchen, I changed the design around to gain counter and cabinet space. The layout matters, and depends on the size of the home. This one was a good sized home with a cathedral ceiling, so it made it easier, and fun, to create the new space.
I find that I love to put an appliance or a sink in the corner on these homes. It frees up the straight cabinet space for better storage. The cook top was my choice in the design, which fit nicely and accommodated the tall, double-oven cabinet and fridge on the side wall. To gain more counter space, we added a small island and a peninsula, which fit into this large area nicely.
The island created a nice preparation area, while the peninsula added more counter space and an area for stools. Most families have children or grandchildren and the stools become their home. We also added a nice buffet/hutch area on the center wall to add more cabinet storage,which created a beautiful piece of furniture for the space, as you can see. The open shelf housed her cookbooks.
Traditional shaker was the theme of this space, so we chose a medium color cherry cabinet in a nice, simple shaker door called Morris in Omega's Dynasty series cabinet. The Ginger stain looked nice on the cherry wood. UbaTuba granite was the choice for the main area in the kitchen, with a nice piece of butcher block on the island. A traditional satin nickel handle and knob were chosen for the hardware. A warm tile placed on the diamond was used for the flooring. I love the light bar hanging from the cathedral, which gave the room a little modern touch.
The kitchen is ready now for lots of cooking and entertaining, which is why we remodel the kitchen. Family and friends will enjoy the space for many years to come!
Bon Appetit!
Tim Holick (Food A Holick)
This entry was posted in
Kitchen Remodeling
on
.