Drunken Cranberry Buttercream Frosting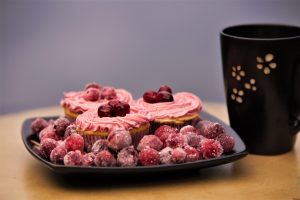 If you love cranberries as much as I do, you'll want to take advantage of this cranberry season to make this frosting for your favorite cake recipe. Excellent with an orange chiffon cake!
Makes enough frosting for an 8″ or 9″ cake or 3 dozen cupcakes
Ingredients:
2 c fresh or frozen cranberries
1/2 c water
1/4 c granulated sugar
3/4c egg whites at room temperature
3/4 lb. butter at room temperature
3/4 lb. confectioners' sugar
4T cranberry liquor
Combine the cranberries, water and 1/4c granulated sugar in a 2 quart saucepan. Put on high heat and bring to a boil. Turn the heat down to medium and cook for five minutes. The water will evaporate so keep an eye on it. Put the cranberries through a sieve so that you are left with a jam-like consistency without the skins. You should have 2/3 – 3/4 of a cup of the cranberry conserve. Allow to cool completely before the next step.
Beat the egg whites until frothy. Gradually add the confectioners' sugar and continue to beat on high until stiff peaks form. Add the butter, two tablespoons at a time. The frosting will appear to "break". Keep beating until the consistency is smooth, thick and fluffy.
Add the cranberry liquor, one tablespoon at a time. When combined well, add the cranberry conserve. Beat until well combined.
Notes:
This frosting is excellent on orange chiffon cake.
Optional: Decorate with candied cranberries.
Recipe created by Beth Sobiloff
This entry was posted in
Recipes
on
.