Designing A Quality Kitchen
There are a lot of moving parts to designing a beautiful, quality kitchen. From measuring the raw space to picking the cabinet style, finish and the hardware; every step in the process is filled with choices and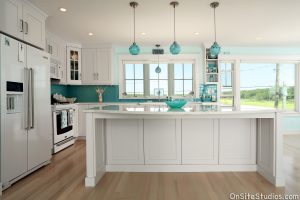 decisions. A good kitchen designer will guide you through the maze of choices and help you make the decisions that create the kitchen of your dreams. A great kitchen designer is also a master of detail, a master of quality and ensures your experience is a great one.
How To Ensure A Quality Kitchen
Creating a quality kitchen is not about taking your order for cabinets and counter tops. Creating a quality kitchen is making sure every detail is accounted for and every selection made is checked and double checked even triple checked. As a client goes through the design process, things can change. Taste can develop and the more educated the client becomes, the more they might rethink their early choices, change their mind or want to make additions to the original design. It happens more often than not and we recognize it as a necessary part of the process because the result is a better end product, a better design and a better experience.
At Wood Palace we have developed a signature process that checks and double checks along the way. We revisit every decision to confirm that it is still our client's first choice. We take each and every client through this process no matter how small or how large the kitchen and budget. It culminates in a final review process that confirms visually and conversationally each and every aspect of the new kitchen before anything is ordered. The goal is to make sure our customers are educated and that all of the choices they made for their kitchen still reflect their wishes so when their kitchen arrives and is installed it will exceed their expectations.
Anyone can design a kitchen, but to create a quality kitchen, the quality must start at the beginning and be built in all along the way, checked, double checked and even triple checked to be sure what the client has dreamed about is what becomes reality. Come home to the quality kitchen experience of a Wood Palace Kitchen.
Save
Save
This entry was posted in
Kitchen Design
on
.