Kitchen Storage
Kitchen Storage Options
The cabinetry options for kitchen storage today are amazing. From appliance "garages" to full pantry cabinets, you can find a way to decoratively hide everything in your kitchen and still keep it within easy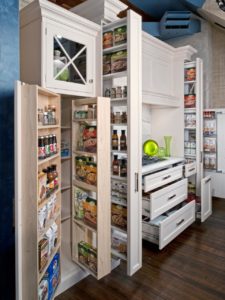 reach. When you think about a new kitchen, kitchen storage should be an important part of your design. Think about all of the things that find a home on your counters, especially the unsightly things. How can you hide your dishwashing tools such as that well used sponge, steel wool or scrubber? What about your dishtowel? Do you drape it over your faucet, hang it on your cabinet door knobs or on the handle of your oven door? There are specifically designed cabinets, cabinet options, drawer options and drawer insert options to meet virtually every kitchen storage need.
To get the best look in your kitchen and find an "out of sight" home for all of those unsightly necessities we all have in our kitchen, take some time to think about the things for which you would like to find a new kitchen storage option. Here is a simple tip. Take a photograph of every wall in your kitchen. Study the picture. What stands out? A picture is worth a thousand words and can help you "see" the problem areas. As we work in our kitchens every day, we learn to ignore and accept kitchen storage problems. We look past them because we know we don't have a suitable storage solution for them in our current kitchen. We just live with it. In your new kitchen, however, you don't have to live with it anymore and the pictures will help you see what you have been living with.
In a new kitchen, you should be thinking about the things that bother you and work with your kitchen designer to find cabinetry and insert options to solve those problems. Save your pictures and bring them in to your kitchen designer. They will have suggestions for how to handle even the most difficult storage issue while keeping the items you use every day right at your finger tips.
This entry was posted in
cabinetry
on
.