Pumpkin Chiffon Pie
You'll love this lighter version of traditional pumpkin pie!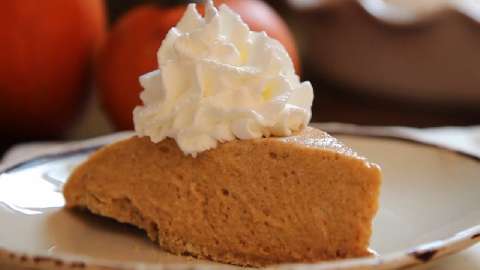 Ingredients:
9″ graham cracker crust
1T gelatin
1/4c cold water
3/4c brown sugar
1/2t salt
2t cinnamon
1/2t ground ginger
1/2t allspice
1-1/3c pumpkin puree
3 eggs, separated
1/2c milk
1/4t cream of tartar
6T sugar
Preparation:
Stir gelatin into cold water. Let stand for a few minutes. Mix brown sugar, spices and pumpkin, egg yolks and milk in a saucepan. Cook over low heat, stirring constantly. Boil for one minute. Remove from heat and stir in gelatin.
Allow to cool until partially set. Beat smooth or put through a sieve if there are lumps.
Beat egg whites until frothy. Add cream of tartar. Add sugar one tablespoon at a time. Beat until stiff peaks form.
Fold meringue into the pumpkin mixture. Pour into the crust. Allow to set for several hours.
This entry was posted in
Recipes
on
.