Peppermint Bark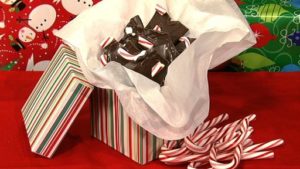 This bark makes a perfect home made gift for the holidays!
Ingredients:
12 ounce Dark chocolate chips
5 regular sized candy canes, or peppermint candies
1/2 teaspoon peppermint extract
Directions:
Break up peppermint candy into little pieces. Melt the chocolate according to the manufacturer's instructions. Once melted, add the peppermint extract and stir.
Pour the melted chocolate out onto a cookie sheet lined with wax paper and spread out with a spatula or wooden spoon. Sprinkle the peppermint candy chunks on to the chocolate and gently press them in with yours hands.
Place in the freezer for 5 minutes or until hardened. Break into pieces and serve or store in the fridge in an airtight container.
NOTE: For a different kind of bark try using slivered almonds with almond extract or orange zest with orange extract.
From: TheChew.com
This entry was posted in
Recipes
on
.