Kitchen Remodel Must Haves: ACCESSORY EDITION
Good kitchen design is more than just a beautiful selection of cabinetry; it's what's INSIDE the cabinet that counts. Our designers often employ built-in cabinet accessories to create a better spaces for our clients.
THE PROBLEM: "This setup doesn't work for us"
Kitchens mean different things to different families- sometimes a large family needs more seating or dedicated space for entertaining. Sometimes a smaller home needs to incorporate a mud room or office area into the kitchen space… it's all about making the space more functional for the homeowners.
THE SOLUTION: Good Listening & Observation
We get to know how you use your space and identify areas that need improvement. We start the design process see the space in person- to experience how it functions. Is there a mess of wires for charging your devices- Maybe you need a charging drawer?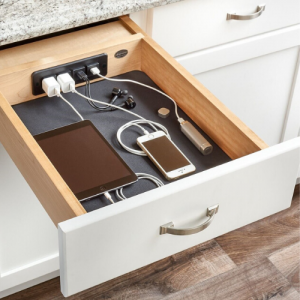 Is there a bulky trash bin in the corner? Maybe you need a trash pullout?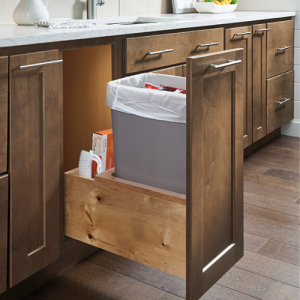 THE PROBLEM: " Our cabinets are overflowing with ____"
Older kitchens often have deep, wide base cabinets which can become black holes for storage. Stacking and piling items in this void only makes things harder to find, and easier to misplace or forget about (We're talking to you, expired canned goods and random Tupperware lids). Bending and reaching to access things can become difficult on your back and joints, especially for those hoping to age in place.
THE SOLUTION: Customized Storage
We like to use a space smarter, not harder. Even when the relative size of a kitchen remains the same, a remodel can offer many storage upgrades like roll-outs, pullouts and clever dividers. Some designed for specific uses like pots & pans, cleaning products, or small appliances can really become a game changer when it comes to using your storage space more wisely. Turning a black hole into a well appointed pantry can maximize the space you already have.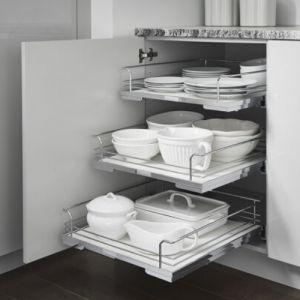 THE PROBLEM: "There is no counter space"
Counters can get busy and cluttered, and finding space for meal prep can become difficult when a kitchen lacks organization. Especially when there are multiple chefs cooking together, clear areas near the sink and cooking surfaces are a must have in any working kitchen.
THE SOLUTION: Planning for Prep
Getting unnecessary items off the counter is our priority. When we work with a client to design their dream kitchen, we optimize the location of each drawer and door for maximum efficiency. A built in microwave can free up counter space, and well-placed utensil and spice drawers keep prep tools accessible.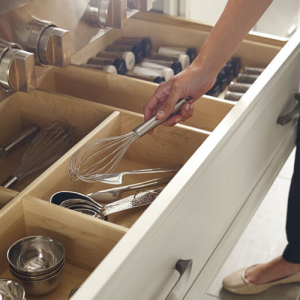 What are your organizational must haves? There are all kinds of clever accessories to make your kitchen remodel a one of a kind masterpiece. Contact our design team to discover the possibilities in your home!
This entry was posted in
Cabinetry
,
Kitchen Remodeling
and tagged
accessories
,
design
,
kitchen design
on
.