Country Farmhouse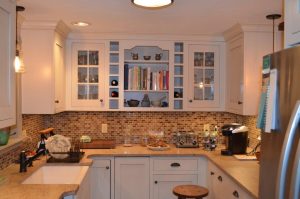 There are so many styles that are popular these days but I always love when I get a traditionalist who gravitates to the old world and classic Country/Farmhouse look. This home in Raynham fit the bill for the taste she longed for. A beautiful, older style colonial home with so much charm, I jumped at the chance to change up their older, failing kitchen. Older homes are fun to transform, but sometimes space is tight.
My first step to any new project is to pick my clients' brains so that we know what they are thinking. Too many designers in our trade give their thoughts and avoid questioning the client. To me, that process stunts the design process and completely eliminates the thoughts of the people that actually live in the house. After I gather my information, my next step is to maximize the layout for function, storage and looks. Many thoughts cross my mind in this beginning process, so it corals these thoughts to a nice, structured process. The space is limited to where appliances and sinks can go, so to add any thoughts that maximize the layout will make their life so much better when cooking in their kitchen.
To maximize storage, we chose to only have one Susan in the corner and box out the second corner so that the cabinets heading into the corner were larger for storage. Some corners waste space, so this kitchen fit in well with this idea. We also added a nice, less deep but tall pantry storage in a different color in the hall area leading into the kitchen space. This one cabinet not only gave her more storage, it also gave a nice furniture look on that wall. She likes to display things so we accented the center wall upper cabinets with a mixture of open shelves, wine cubes and glass mullion doors. It gave the center area a hutch look. Some nice, big three-drawer cabinets were put under the sitting area for some easy storage. Drawers are so popular these days.
The cabinets were done in the Omega, Dynasty Series in the Morris door style, Pearl White with flush insets. The pantry in the hall was done in a custom, rust/red paint with the Clayton Beaded door style also with flush insets. The counter tops were done in Ivory Fantasy granite, which gave the counters a simple, neutral feel. The look is timeless and will give them a beautiful and classic look that they can enjoy with family and friends for many years to come!
Bon Appetit!
Tim (Food A Holick)
This entry was posted in
Kitchen Remodeling
on
.