Winter Salad with Pomegranate Vinaigrette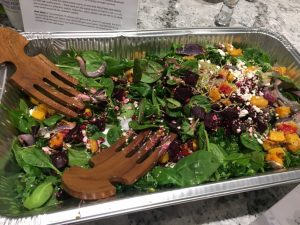 Cut Butternut Squash, Beets & Red Onion into equally sized chunks, toss with melted coconut oil, Himalayan salt and fresh black pepper and roast on a sheet pan @ 400 for 30-40 minutes
Assemble a big bowl of hearty greens and lettuces of your choice: spinach, kale, radicchio, endive, arugula etc.
(NOTE: if using Kale- massage with olive oil first)
Add cooked and cooled butternut squash, beets, and onion.
Top with fresh broccoli sprouts and chives, pomegranate pips, hemp seeds and goat cheese. Add dressing and toss. Enjoy!
Pomegranate Vinaigrette
1/3 cups pomegranate juice.
1/3 cup olive oil
5 teaspoons honey
1 tablespoon balsamic vinegar
1 teaspoon Dijon mustard
1/4 teaspoon pepper
1/8 teaspoon salt
Dash lemon juice
Courtesty of Aimee Logan
This entry was posted in
Recipes
on
.