Tuscan Farmhouse Culinary Haven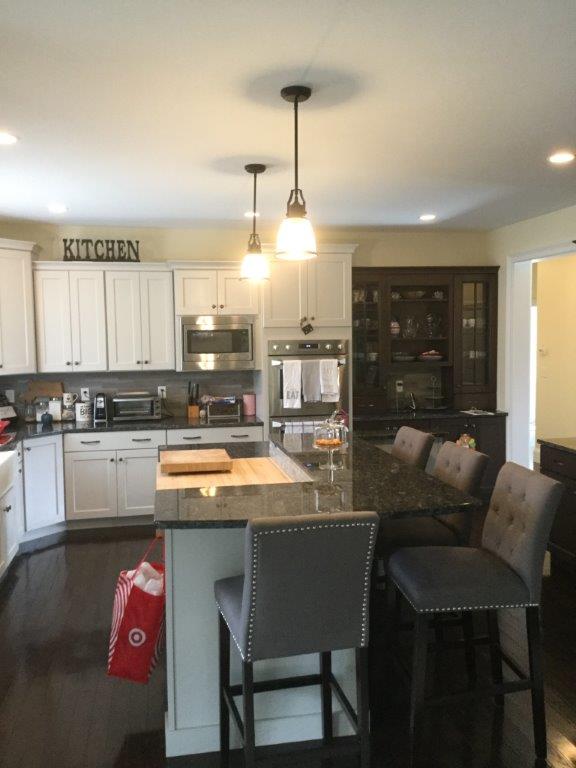 Most people dream about a chef's kitchen, but this chef made it a reality in his new home. With a large space that opens into the family room area, it was fairly easy to design the space for a busy chef who also loves to cook at home. The island becomes the focal point and a space where food prep and cooking were a must for this Italian chef. Good Italian food takes time and space, so we designed in a wonderful butcher block area to prepare the fresh vegetables and baking goods. It is across from the fridge and adjacent to the cook top. Prep and counter space are a must for fresh cooking.
He wanted to cook and look into the family room so we put the cook top on the part of the island that looks into the family room. It also faces the stool area so that he can still converse with some guests as he prepares his meals. In back of the cook top, we placed the double ovens and microwave neatly built into the cabinetry. It makes it easy to use the different areas efficiently. On the end of the oven run, we designed an old fashion hutch area in a beautiful, deep cherry finish. The bar area in the middle of the kitchen matched the hutch. It warms up the taupe colored painted cabinet.
Beautiful granite in Sapphire Blue adds to that deep warmth. Since the taste went towards Tuscan/Farmhouse, we staggered the cabinets to give it the unfitted, eclectic look. The deep stained hardwood floors really finish the look.
Design plays a big part in a kitchen that not only makes the space efficient, but also adds to the charm of the home. Starting with the style/taste of the space helps bring the room to life.
Bon Appetit!
Tim Holick (Food A Holick)
Kitchen Remodeling
on
.