Transformational Design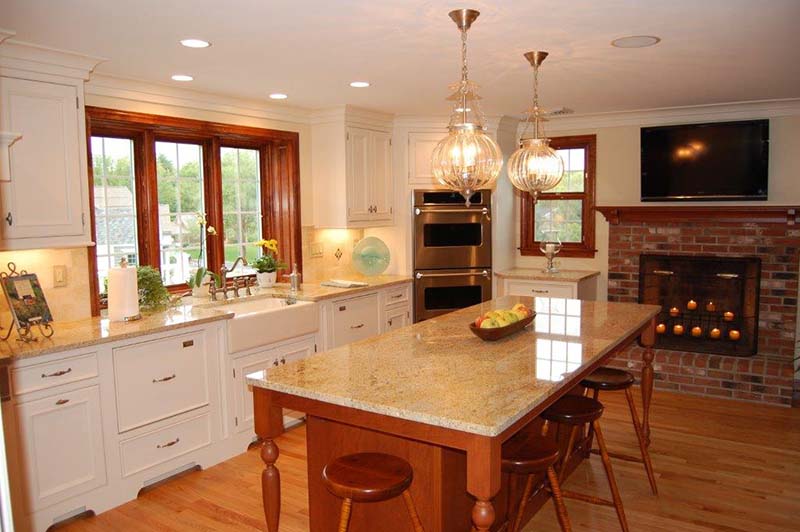 When I look back at this project for this month, transformational was the first word that popped into my mind. I can still remember my first meeting with the Fullers at their home in Seekonk. I asked my typical questions to get an idea what they were thinking and dreaming about. After all of my questions were answered, Mary Ellen and Bob specifically told me that they were game for any ideas or thoughts from me. Those words are what every designer dreams to hear from their client when starting out with a new project. Well, let me tell you that the ideas came out of our minds here at Wood Palace like a broken water line. Transformation was about to happen in this home.
As you can see in the before photos, the existing kitchen was in the center of the back of the home. Next to the kitchen on either side were a dining room and a front to back living room. They already had another family/living room in the front of the home that they spent most of their TV time in so they said if we wanted to make the kitchen longer and extend into the living room, we could. The Fuller's love custom made furniture and they have a beautiful set in their dining room that was custom made by a well-known furniture making company here in Boston. Their furniture was our inspiration for the two rooms we created back to back between the dining room and the new kitchen. One of them being a butler's pantry to pass through from the kitchen to the dining room. What better area to connect the two than a butler's pantry. It creates that old world charm that the furniture is and it gives you the storage for all of those items that you love to share in both rooms.
On the opposite wall we created a wonderful mud room area to connect the outside to the inside that housed more storage, a desk area and a microwave. It's a perfect room to house all of these things and gets them out of the way from the working kitchen area. We have designed this room in many homes in the past and all of our clients are very happy to have it in their lives. I think it's another way to bring that old world charm into the home and make it useful.
We did extend the existing kitchen into the living room, all the way to the fireplace. We also created a small area in the old living room area to accommodate a few living room chairs that they can sit at to have coffee, a drink or just to sit and talk while they unwind from their everyday routine. It's a cozy area that goes very well with the kitchen. By extending the kitchen into this area, we were able to accommodate a nice sized island for food prep and sitting at for a nice meal or again, just to sit and talk. An island is always a main attraction in most homes and it tied all of our areas together well.
The back outside wall housed a beautiful, large window, a corner oven area and the beautiful gas apron cooktop with a stately wood mantle hood above. It also featured a pot filling faucet just above the cook top in the wall to fill those large pots with water when cooking at the burners. The beautiful tumbled marble tile on the backsplash featured a tile mural around the this faucet in the wall. The Sub Zero fridge was located between the two door openings that leads into the butler's pantry and mudroom, rounding off the area so that it melded together nicely. Beautiful old world panels flanked the fridge and apron sink area to finish off the French Provincial styling. The legs on the island were chosen to mirror the dining table look which blended again to her French Provincial taste.
Beautiful exotic granite (Kasmire Gold) was chosen for the counters with a very simple edge detail. The cabinets chosen were Signature custom cabinetry in Antique White paint. The Canterbury door style was inset in a beaded frame, again lending to that old world charm. The island, mud room and butler's pantry were accented in a cherry wood in a beautifully, warm Honey finish.
The results as you can see transformed their lives so that they can cook and entertain more now as a family and with good friends. The plan they chose was the most expensive out of the three that we presented because of added cabinetry and construction costs but as they will tell you to this day, they would not change a thing. At a recent football game that Bob and I attended together, he told me that they still love their kitchen as much as when we completed it almost 7 years ago. That is again, music to our ears. This wonderful transformation couldn't have happened to a better family. Bon Appetit and many more years of family and friend fun at the Fuller's!
Before pictures
After pictures
This entry was posted in
Kitchen Design
on
.