Where Do I Start? Kitchen and Bath Remodeling 101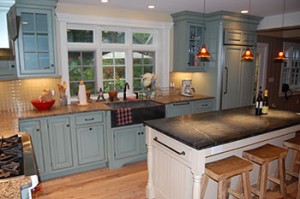 In life, one of the biggest thrills that we can experience is to be needed by another human being. I think that is where all mothers get their motivation from to put in the long hours that it takes caring for their children in those development years. I can tell you that it is the same in the work world. I get the best feeling when a client comes into our showroom with that "deer in the headlight" look and asks, "Where do I start?" These are the clients that I most definitely have the most fun with and in the end, the best outcome. They need my professional help and with that help, the project takes on a new dimension. Steve Jobs loved to create as he took long walks with people he worked with around the office or his neighborhood. It's the same with us as we stroll through our showroom, collaborating ideas with a client and putting the puzzle together to come up with that ultimate space that they have longed for.
Where do I start is a great question to begin with. It's what gets those juices flowing. The more you search, the more educated you become and better decisions get made after that. Where I like to start is to answer the question of, "What are you looking to do?" It seems like an obvious question. but you would be surprised at how many don't start there. When I say what are you looking to do, I mean what is the purpose of the remodel and what is the final outcome that you are striving for? The purpose gives you the energy start, and the outcome gives you the catalyst to start the plan to bring it all together. There are many possibilities to consider, so knowing your outcome helps in the separation of the more important and the not-so important.
Next I like to have clients go through kitchen magazines, HGTV episodes on kitchen or bath remodels, and Houzz. It's time to get a style that fits your taste. It also helps you communicate well with the designer of your choice. Styles make up a good portion of the ideas that your designer will come up with to bring that kitchen or bath plan to life. If you can't find a look that fits your tastes, a good designer will ask a lot of good questions to pull that style out of you. Most people feel more comfortable looking around first to identify their taste before they meet up with a designer, but if you can't or don't have the time, a designer should be your first choice.
Appliances and fixtures are the next best item to work on. With all of the products that are available theses days, this is a great place to spend some time to get the right feel of product to make that kitchen or bathroom work the best for you. Design of your space depends on these choices, so get it out of your way first. There are plenty of showrooms available that have working kitchens and or working fixtures that you can come in and play around with. If Sub Zero and Wolf brand appliances are your choice, Clarke in Milford, Mass., has a great showroom that you can come in and cook and play with. It's a great opportunity to get the feel first before ordering and choosing what is right for you.
No matter how you want to go about your remodel, take the time to do these upfront tasks. I promise you that it will make your life, and the design professional's life so much more efficient so that you and your family can enjoy the space for many years ahead. It's not an easy process, but it can be gratifying when you start here and then work with the right professionals. Doing this solidifies a project well done.
Take that time to dream first and what you come up with will be exactly what you want and deserve. Bon Appetit!
Tim Holick
This entry was posted in
Bathroom Remodel
,
Kitchen Remodeling
on
.