Orange Beef Stir-Fry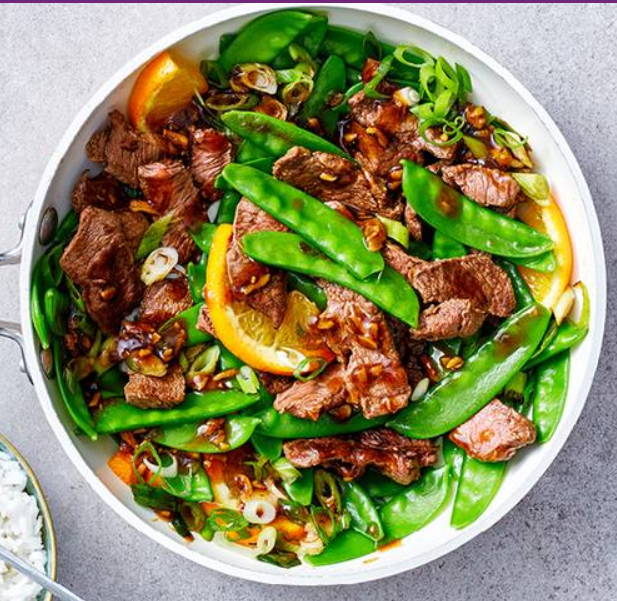 Ingredients:
1 lb flank steak
1 bunch green onions
1 inch chunk fresh ginger
2 naval oranges
1T reduced sodium soy sauce
2T rice wine vinegar
2T brown sugar
2T vegetable oil
1T minced garlic
1-12 oz. pkg snow peas
Directions:
Cut the steak into thin slices for stir-frying. Thinly slice the green onions. Peel and finely chop the ginger. Cut one orange into half moon slices. Squeeze juice of second orange into a medium bowl.
To juice, add the soy sauce, vinegar, brown sugar and ginger. Whisk to combine.
In a 12-inch skillet or wok, heat the oil on medium-high. Add beef and season with salt and pepper. Cook 4-5 minute, until browned, stirring often. Transfer beef to a bowl.
To the same skillet, add green onions and garlic. Cook 30 seconds, stirring constantly. Add orange slices, snow peas and soy sauce mixture. Reduce heat to medium. Cook 3 minutes, stirring occasionally, until snow peas are tender and sauce has reduced. Return beef to skillet and stir together. Remove from heat.
Serve with rice or Chinese noodles.
This recipe is from the Stop & Shop Savory magazine.
This entry was posted in
Recipes
on
.