How Do You Tell A Quality Kitchen?
How do you tell a quality kitchen?
There are many things that go into a quality kitchen: cabinetry, hardware, counter-tops, additional features or accessories for the cabinetry, and the labor and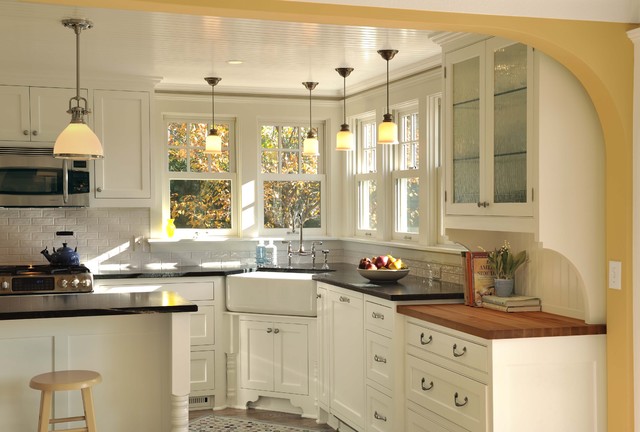 workmanship to pull it all together. The highest quality kitchens are typically a combination of great design, high-end materials, quality workmanship, and unique finishing touches.
Wood is more expensive than any of the composite cabinet materials available, and solid wood doors and drawer fronts are typical in high-quality cabinets. Examples of woods used in quality kitchen cabinets are maple, cherry, oak, hickory, and walnut. These woods are durable and naturally beautiful.
When considering the quality of your kitchen cabinets, the insides matter as well. The insides of high-quality cabinets should be smooth, not rough to the touch, with shelves at least three-quarters of an inch thick. Dovetail construction is recommended over glued joints to provide cabinets that hold up to heavy use for a long time.
Unique color-matched finishes are available with custom cabinetry, along with hand-painted faux finishes, glass-paneled doors, and decorative wood carvings. Additionally, internal accessories such as lazy Susan's, gadget garages, recycling bins and spice or wine racks can be added to meet the homeowner's unique functional needs. High-end hardware is also found on the highest-quality kitchen cabinetry, often made of unique materials and high-end metals.
If you are someone who lives to entertain, quality kitchen cabinets should be considered as they give off the high-end kitchen vibe that is appealing to discerning homeowners. Custom cabinetry is made to order and offers the most diversity in style and finishes. They are one of a kind and are therefore tailored to each unique kitchen in which they appear. There, great design is part of the quality. But there are many semi-custom cabinet lines that give you the high quality and the most popular accessories coupled with the same great design that may fit into your budget better.
No matter how great the materials and the design, attention to the details, experienced workmanship as the cabinetry is installed as well as standing behind the installation is an important part of a quality kitchen too. At Wood Palace Kitchens, we sell quality cabinet lines, create quality designs and have excellent installation workmanship that we stand behind with a labor warranty. We call it Quality Cubed and it comes with every Wood Palace Kitchen, no matter what the budget.
Save
Save
Save
Save
This entry was posted in
cabinetry
and tagged
cabinets
,
design
,
quality
on
.