Friendship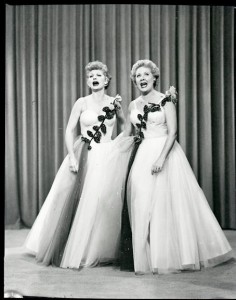 When I think of the word friendship, I can't help to think back to Lucy and Ethel fighting it out on stage with the song, Friendship. No matter how mad those two zany gals got at each other, they always cried and made up in the end. I guess that is the way all stories on TV or in the movies try to end. I think deep down, no matter how mad we get at a friend, we all hope to end it that same way; as friends should do.
Friendships are hard to come by, especially the real good kind. We all start out with those good friends when we are growing up in those young and tender years. Most often sadly, we grow apart when we become adults and we start all over again with new friends. Good friends are hard to come by so when we do find them, we should hold on to them with extra care. I know the saying; we can count on one hand the amount of real good friends but I am an optimist and feel I could never have enough hands to include the many I grace as friends.
This week I lost a good business friend and Middleboro icon; Dominic Falconeiri. Dom, (as I preferred to call him) came into my life in 1982. Dom was the very first contractor to step into my mothers driveway when I first started my business in her garage at the end of 1979. I still remember my first thought; oh my God, that is Dom Falconeiri the builder. Dom was an icon in Middleboro and to even think he was coming by to give us a chance to make his kitchens was I guess, unfathomable. Dom was an average sized man that always had that "Dom smile" on his face. I can't describe it but if you knew him, you know the smile I am talking about. That smile and his voice instantly took notice to your attention. He also had this slow, kind of long, giggle laugh that instantly put a smile on your face and exemplified trust. He commanded the floor and the respect of all that knew him. After Dom started buying his kitchens from us, most of the other builders came by my shop and followed suit. I still credit Dom to our early success in business.
It's funny how our relationship evolved over the years. At first, I considered him as a father-image. Let me explain Dom to you. Dom was a tough and strong personality. He wanted things his way and you better know what that exactly was, especially when he didn't verbalize it. He was a fair and trusting man who considered his clients God and he did everything in his power to make sure they were happy and proud of the home that he built them. Dom's reputation as a builder was iconic. I can remember a house that was being sold in the paper that proudly declared it a "Dom Falconeiri built home." Many of the builders today in the area started their careers working for him. He made his mark both professionally and personally to many people in the course of his life who considered themselves fortunate to be a part of. I know I am grateful for the man that helped me grow over the years and become who I am today.
As the years went on, he became more of a brother-friend to me. Conversations turned to more about life and family than about work. This especially was true after he retired. It's tough to explain but I saw a big change in his personality after his retirement to a more laid back and content man who was always glad to see or bump into you. Work was off his mind and you could see the relaxed-state that he had himself into. You could see that he was struggling with his three or so conditions that he was battling but not a peep or complaint ever came off of his lips. He was at peace with it all and he was going to enjoy every moment that he had left, in spite of it all. The spirit might get weak but with Dom, it never died. Gone were the days of bicycling around the many roads in the area but trips to Italy or many other places were still in the cards, right to the end.
I could go on and on about stories of Dom. He was a good business man but most of all, a very good man. My life and everyone around his life will be changed forever. I will miss my friend but absolutely will never forget him. My life was forever changed for the better the day you walked down our driveway many years ago and became our client and better yet, friend. I hope you are soaring with the angels and best of all, showing Jesus how it's really done building a home. You are his friend now and he's been waiting for you to get there to show him the Dominic Falconeiri (Right) way. I will miss you more than words will ever describe! Your smile and laugh will forever etch into my mind!
RIP my friend, my next drink is for you!
Bon Appetit!
Tim Holick
This entry was posted in
Inspiration
on
.