Facade Makeover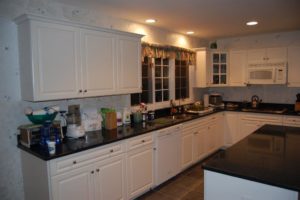 What does a person do when the Foil cabinets that they have in their kitchen yellow and the cabinets themselves are in good shape? In this case with Tim's cousin, Leslie, we just replaced the door and drawer fronts and added quartz counter tops. As you will see in the before and after photos, the transformation is nothing short of spectacular. This is not one of the things that we normally do, but in certain situations, we are able to accomplish it for a client that is in need.
Sometimes when someone is looking to sell their home, and the cabinets are in great shape, but the outside of the doors are not, It's a lot less expensive to just do the fronts over. Especially with a large area of cabinets like this job. Her cabinets were perfect to do this with. Just the doors and drawer fronts were yellowing, The molding and sides of the cabinets were still white. We also used all new soft-close hinges to update the cabinets for ease. The new foil doors and drawer fronts matched the molding and sides, color wise, perfectly. As long as something in the kitchen does not need to be painted, we can achieve the lower cost solution. It's almost half the cost of replacing the cabinets all together.
We also replaced the counters with the go-to counter top material, quartz in the Cambria brand. The dark blue counter color, with the white cabinets, sparkle like fine jewelry. The final result, as you can see in the pictures really changed the look of the room from old and dingy to sparkling and bright. Now, when she comes into the kitchen, it brightens up her mood for the day. I'm sure she is enjoying the outcome, not only for looks but now she has a counter material that is not only beautiful, it's also hard and durable.
Bon Appetit!
Tim
Before
After
This entry was posted in
cabinetry
,
Kitchen Remodeling
on
.