Dry Rub for Pork Ribs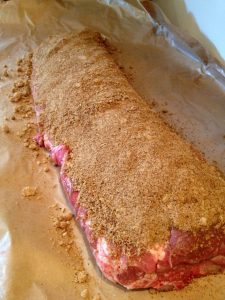 I just tried this dry rub, and it's yummy! Put the rub on the ribs and refrigerate overnight. Cook the ribs in the oven or on the grill, using either a barbecue sauce or a mop for the last hour or so of cooking.
2 tbsp fennel seeds
2 tsp cumin seeds
1 tbsp coriander seeds
1/2 cup brown sugar
2 tbsp kosher salt
2 tbsp smoked paprika
1 tbsp garlic powder
1 tbsp onion powder
1 tbsp ground cayenne
1 tbsp black pepper
1 tbsp dried oregano
1 tbsp dry mustard
Toast the fennel, coriander and cumin seeds in a sauté pan until fragrant and oils have been released. Grind in a spice grinder until in powder form. Feel free to use ground spices if you prefer, but use a 1/2 tsp LESS of each.

Remove the thin, papery membrane from the back of each rack by inserting a knife under it. The best place to start is on one of the middle bones. Using a paper towel, or pliers to secure a grip and peel off the membrane.

In a small bowl whisk together the toasted/ground spices and all the remaining dry rub ingredients and rub all over ribs. Wrap the ribs back up in the butcher's paper (it has a great wax interior side to keep juices from dripping out), and seal with aluminum foil. Place in the refrigerator for 24 hours.

From: Kevin's Cooking, https://keviniscooking.com/dry-rub-pork-ribs/
This entry was posted in
Recipes
on
.