Dream First; Getting it Your Way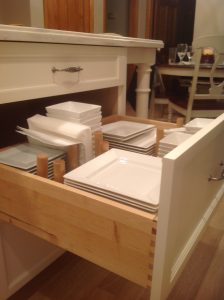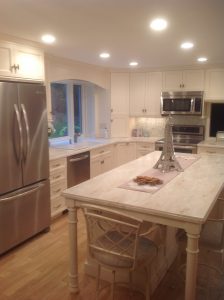 Excuse me for sounding like a Burger King commercial but when it comes to designing your kitchen, looks is not the only thing to focus on. I know that it is very important to get the right look but it is equally important to get the position of storage ideas exactly where you will need them while you cook, work and entertain in the space. I find that most people want to rush this process or that they are working with someone who does not focus on this important design segment. This is such an integral part of our process to unravel the ideas that we use in our designs. In the end, our clients are happy that we take the time to do this.
I understand that most people haven't a clue what they want when they start the design process. That is a common thing that we run across in the first consultation phase. When I am done understanding their style theme to help guide them to the right product that matches their taste, we go right into the fitting stage of cabinet storage. The average person who enters in the design stage is not in tune to new storage ideas. It usually takes me a little while to convince them that big three drawer bases are the new wave of storage. So many items in the kitchen can be housed in these drawers like pots & pans, plates, casserole dishes, Tupperware and small appliances. Most people are used to pullout drawers behind doors for some of that storage. The problem with this is that you have to open the doors first to pull the drawers out. With three drawer bases, it's a breeze to just open the drawer to easily grab these items. Now with the full extension soft close runners, they glide and close like the wind. We have less time available in our lives these days so the quicker and efficient we are in our kitchen, the better and less stressed we are.
Spice storage is another storage idea that most love once they are exposed to the options. The most common one is the pullout rack unit in a base cabinet. I have seen some well packed units that not only hold a lot but are easy to access. With the new round spice containers, the unit inside a drawer is a must have. There is nothing better than to have those spices easily available when you need them most. Trays are another kitchen item that clients want in their place. Full height skinny base units are great for this and dividers over a double oven, behind the 2 doors are another great storage idea for sheets, lids and any other thin item that you need to grab quick.
Pullout trash and recycling units are popular these days. The age old question is; where do I want it all to be? I'm a proponent of having it near the stove/sink area but having it in the island is another great place also. The island is an important prep area so having one there makes clean up easier. When I have a large kitchen, I suggest 2 double units so that you can split them up among the cooking/prep areas. Open book case cabinets are still popular as with different types of cutlery and knife storage. I'm even seeing a growing movement of wine bottle storage for the red wines.
I could go on for hours with all the storage units available but I'm sure you get my point. Taking the time to plan it all out not only makes an organized kitchen but it also makes it a pleasure when you are in the heat of cooking up a storm. I have always believed that good design costs no more than bad design so make sure that you think of these things carefully before ordering. The time spent will be worth it and most definitely free your time up some each day. Dream First and let the rest fall right into place!
Bon Appetit!
Tim Holick (Food A Holick)
This entry was posted in
Kitchen Design
on
.