Downsizing Is A Tough Decision
So, it's that time in your life where all the kids are gone and on they're own. The beautiful home you bought to bring up your children, and have extensively remodeled over the last 10 years is too big for the two of you and too expensive to keep up and you are thinking about downsizing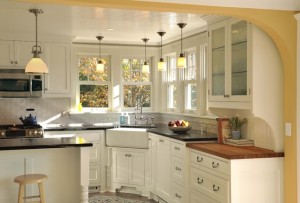 . I probably hear this at least two times every week from frustrated clients who struggle with the decision that it might be time to downsize.
Making a life-changing decision like downsizing is hard to swallow for all of us baby boomers. Let's face it, we still believe that we can still conquer the world. We grew up believing that the more we jam into our lives, the better and more successful we will become. Accomplishing things is our anthem and makes our generation who we are.
I usually meet these people when they are remodeling their baths. Bathroom remodeling has taken over the remodeling world in the last 8-10 years. Most of them have remodeled their kitchen already in the last few years through Wood Palace or someplace else. They waited through all of the child-rearing years and the college tuition drain to finally make their kitchen space a place that reflects them and their new life without children. "Why would we spend all of that money on our kitchen and then move?" are the thoughts that flood their minds as they struggle with such an important decision.
Emotion is usually the one thing that gets in our way most of the time when we make such a big decision. These are the times we need to separate the facts from the emotions. Fact one, our home is much larger than we need. Two, the upkeep and cost of running a larger home drains the extra money that could be helping with our retirement funds. Three, a good portion of any money we did put into our home will be recouped when we sell our homes. Most realtors will tell you that the kitchen and bath are where most people look first when they go to purchase a home. Newly remodeled kitchens and baths not only show well but excite the possible buyer to make a quick decision.
What is the biggest concern though when someone is thinking of downsizing? I find that most are afraid of the smaller area of the kitchen in a smaller home. Smaller bedrooms, baths, and yards are ok to swallow. When it comes to the kitchen, the smaller space scares the average person. The thought of less counter space, stool space, and area to entertain in make the decision harder. I think we all struggle with the fact of living in a smaller place than we do now but we have to face reality. We are getting older and as we do age, our bodies slow down and our minds need less clutter.
Where are the most important areas of the house that you live in? Where do you spend most of your time? You're right, the kitchen and family/living room. Like I said earlier, we can all live with smaller bedrooms and baths. I feel those rooms are much cozier when they are smaller anyway. If you like to entertain more now that the kids are gone, it's wise to expand the living room for those sports or holiday get togethers. It's usually less expensive than increasing the whole house. When it comes to the kitchen, that's an area that can be less in size and more efficient. There are many ideas to make the area more efficient, and I will share those ideas in a future blog.
In the meantime, if you are considering downsizing in the near future, write down what is important to you going forward in a newer home. This will not only ease the thought of downsizing but will help in the plan for your new home. I'll always help you out with the kitchen design, so no worries. Save your energy for more important things and relax, so that you take the time to live life and be happy.
Bon Appetit!
Tim Holick (Food A Holick)
Save
This entry was posted in
Bathroom Remodel
,
Kitchen Remodeling
on
.