Crock Pot Chick Stew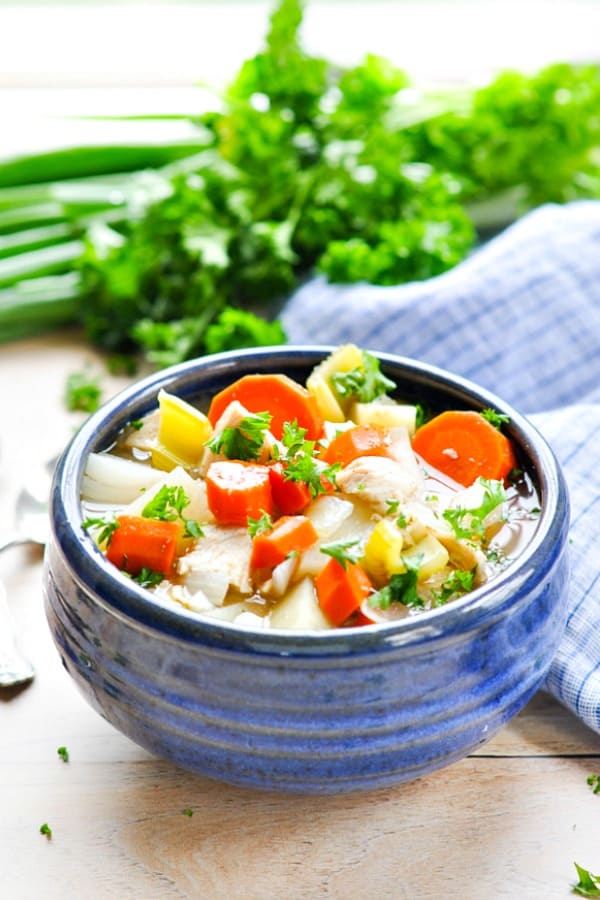 Full of tender, juicy, and flavorful protein and veggies, this Healthy Slow Cooker Chicken Stew with potatoes is a cozy, easy dinner recipe for chilly nights!
Keyword:
chicken stew, chicken stew with potatoes, slow cooker chicken stew
Ingredients
2

medium sweet onions, diced into bite-sized pieces

3

stalks celery, diced

4

carrots, peeled and sliced into rounds

2

medium russet potatoes, peeled and diced into small bite-sized pieces

1

bay leaf

2

teaspoons

salt

½

teaspoon

paprika

½

teaspoon

dried thyme

½

teaspoon

poultry seasoning

3

–

4

lbs.

bone-in chicken breasts, skin removed

3

cups

low-sodium chicken broth or chicken stock

1

tablespoon

corn starch + 1 tablespoon cold water

For garnish: chopped fresh parsley
Instructions
Place onions, celery, carrots, potatoes, bay leaf, salt, paprika, thyme, and poultry seasoning in the bottom of a large slow cooker. Stir to combine.

Place chicken on top of vegetables. Season chicken liberally with salt and pepper.

Pour chicken broth over everything, cover, and cook on LOW for 6-8 hours or on HIGH for 3-4 hours.

When there are about 30 minutes left in the cooking time, remove chicken from the slow cooker and chop or shred the meat. Return chicken meat to the slow cooker and discard bones. Discard bay leaf.

In a small bowl, whisk together 1 tablespoon of corn starch with 1 tablespoon of cold water until smooth. Stir into the stew and cook on HIGH without the lid for 30 minutes (or until broth thickens a little bit).

Garnish with chopped fresh parsley, just before serving.
Recipe Notes
Can Chicken Stew be frozen?
Yes! This hearty chicken stew recipe is a wonderful freezer meal! Simply prepare the stew according to the recipe below, allow to cool to room temperature, package in airtight containers or plastic freezer bags, and freeze for up to 3 months.
Can Chicken Stew be reheated?
Absolutely! Reheat the chicken stew on the stovetop over low heat, just until warm. You can also reheat individual bowls in the microwave.
COOK'S TIPS:
Want to Prep Ahead? Chop all of the vegetables the night before, and then place them in a large zip-top bag with all of the seasonings. In the morning, just dump the whole bag into the slow cooker, top with the chicken, and proceed with the rest of the instructions.
Use a pair of kitchen shears to quickly and easily remove the skin from the chicken breasts.
I use bone-in chicken breasts for my chicken stew for a couple of reasons. The bone-in meat has a longer cooking time than a boneless, skinless chicken breast, so the meat stays juicy and tender while the carrots and potatoes finish cooking. The bones also give the broth tons of added flavor. However, if you can't find them or if you don't want to bother with them, then boneless thighs or breasts will also work.
If you don't mind a thinner, more soup-like broth, you can skip the final step with the corn starch. It will still taste delicious!
This entry was posted in
Recipes
on
.