Christmas Cookies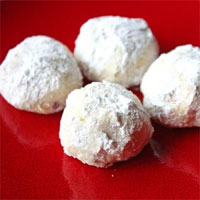 This holiday season, I thought I'd share one of my favorite cookie recipes from Christmas growing up. My great aunt made these every year, and I really looked forward to them.
Russian Tea Cookies
1 lb. Butter
1/2c Confectioner's Sugar
2t Vanilla
4c Flour
2c Pecans, Finely Chopped
Cream the butter. Add sugar, beat until light. Add vanilla. Add flour and mix well. Fold in nuts. Use a small ice cream scoop to make balls about 1″ in diamater, place on ungreased cookie sheet.
Bake at 350 degrees for 10-12 minutes. Cool slightly then roll in confectioner's sugar. Makes about 6 dozen cookies.
Enjoy, and happy holidays from all of us at Wood Palace Kitchens!
This entry was posted in
Holidays
,
Recipes
on
.