Cabinets – The Building Blocks of Your Kitchen
Cabinets create the structure of your kitchen. They add value and beauty to your home and provide storage and functionality. There are many cabinets to choose from but at their most basic, cabinets are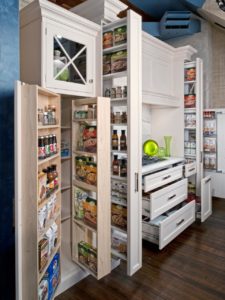 boxes that serve as the building blocks of your kitchen.
There are three basic types of cabinets: wall, base and tall cabinets. These basic cabinets are combined with cabinet options to form other cabinet types such as a wall unit or tall pantry cabinet, a drawer base cabinet or used to create an island. Combining the possibilities to create a look with functionality customized for you are endless. Our kitchen designers are experts at combining all of the pieces to give you the look you want and the functionality you need.
A Cabinet Primer
Base cabinets create your floor plan. They are mounted on the floor and support the countertops. They come in a variety of sizes and depths to add architectural interest. They can house pullouts for pots and pans, hold drawers for silverware and utensils, house Lazy Susans that aid you in reaching into corners, even house organizers for your dishes.
Wall cabinets are cabinets that mount to the wall and form your upper cabinets. Wall cabinets have the most design flexibility as there are different heights, widths, depths and solid as well as glass door options that let your designer create a look that compliments the base cabinets and further defines and compliments the style of you kitchen.
A tall cabinet can extend from floor to ceiling. It provides as much as four cubic feet more storage than a wall and base cabinet in the same space. As a pantry it provides storage for everything from small appliances to canned goods. The tall utility cabinet can also be configured to accommodate built in ovens and microwaves or hold a vacuum or other cleaning supplies. The possibilities exist for you to get the exact configuration and look you desire.
Cabinet Construction
There are two main types of cabinet construction offered today: framed and frameless. Each has structural and stylistic advantages and disadvantages. When comparing framed vs frameless construction, the most important considerations are box construction, materials used, quality of the finish and drawer box construction and assembly. These are the areas where cabinets first show wear and tear, including damage during installation. Recognizing the differences between cabinet construction types, materials and quality will help you understand the wide price variance in the kitchen cabinet market.
A framed cabinet is really a box with six sides: front, back, left side, right side, top and bottom. The cabinet front includes a wood frame that is attached to the cabinet front. The cabinet door attaches to the wood frame and may be attached leaving some of the frame exposed, covering the frame entirely or set in the frame for a different look.
A frameless cabinet, also known as a European-style cabinet, has no face frame. Therefore, the cabinet is a five-sided box and the door attaches directly to the cabinet becoming the sixth side. Frameless construction requires thicker side panels to provide stability and a base for hinge attachment. This adds weight to the cabinet. This style provides slightly more access to the interior of the cabinet. Most US consumers prefer framed cabinets.
At Wood Palace, we have a wide variety of cabinetry in all price ranges to allow you to get exactly the kitchen you desire within your budget. Let our experienced designer help you navigate the advantages of each cabinet type and create just the right mix of options for you. Come home to a Wood Palace Kitchen.
This entry was posted in
Cabinetry
on
.