Beach Blanket Bingo Summer Home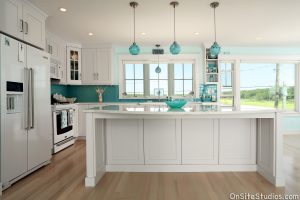 I'm sure you all remember the movie back in the 60's with Frankie & Annette. This home on the water reminds me of that fun and colorful movie. It's a home that as soon as you walk in, you smile.
Our clients style for the home was beach of course, since it is right on the water. The beautiful blue and green colors throughout the very open floor plan home give you a calming effect that you want from an ocean home. I love the fact that the outside walls are mostly occupied by windows and doors. It gives the floor plan a very bright and airy look.
When it came time for the selection of cabinets and counters, words like classic and simple were tossed around. When we are trying to relax from our normal work week routine, it is important to design our spaces simple to ease our minds and classic to last a lifetime. Transitional design has been such a big design movement in the last 5 years to help in the uncluttering of our heads from the hectic lifestyles that we all lead. Whether it is traditional to modern, farmhouse to modern or like this home, beachy to modern, it really gives your home a calm but welcoming feel. I love the range this style gives me as a designer.
Cabinets picked for the kitchen and hutch area were Omega Full Access cabinetry in the Monterey door style in the Pure White Opaque finish. Counter tops were a marble looking quartz, LG Viatera Cirrus. It gave the room the cool, rich look she was after. The beautiful tile selected in aqua, finished the room off with a little pop. The results I think you will admit fit her beachy look that she was after. I can see the beach blanket bingo parties going on for many years at this beautiful ocean home. I'm happy for my clients to be able to enjoy their new home. They are wonderful people who deserve their new retreat!
Bon Appetit!
Tim Holick
This entry was posted in
Kitchen Design
on
.