Megan LaForge
Megan began her design career in 2001, after earning a BA in Architectural History from NYU and spending a year on her Masters at Syracuse University School of Architecture. She has worked for Wood Palace twice since then, first from 2009-2010, and this time around starting in 2016. Her interest in architecture and construction has led her to other roles with architects, interior designers, and a stone fabricator along the way, so she brings a well-rounded knowledge of the industry with her.
The designs she creates are not only creative and aesthetically pleasing, but practical and well-engineered. Megan's builder customers appreciate her understanding of how things need to work together on a job site and her ability to communicate easily with all trades.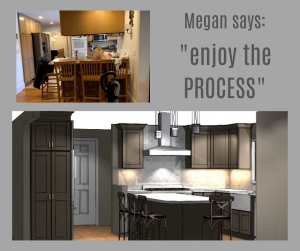 Megan enjoys working with older homes and dated layouts, the "trickier" the better. By asking the right questions and really listening to the answers, she can envision the space in unique ways and help the client find the solution that will work best for them. Make an appointment with Megan to start your kitchen design today!
"I love being able to take an old, quirky room and transform it into a space the homeowner doesn't want to leave. Regardless of their budget, I want them to feel like they have a kitchen that is truly custom to the way they use it."
Residing in East Providence, Megan enjoys renovating her own historic home and is a proud hockey mom of two, spending most of her evenings and weekends at a hockey rink, or driving to one.